Do you like to know those free extensions which almost makes your SEO Task simpler?
Since a lot of people consider SEO as the tedious task, It makes them unable to finish the work at the fixed time.
Doing SEO is as same as a fat man trying to reduce the weight.
It takes the time to naturally reduce the weight by doing physical workouts to burn the fat.
Even I had the same problem and took a lot of time to finish the job.
But I am sure, if you use the following SEO site tools, it will reduce your time by 50%. It sounds cool, isn't it?
In this article, I am going to show you the best SEO extensions which I am Personally using for my day to day task.
Also, I will show you how to use these best chrome extensions to fasten your work and reduce the time.
You might say, Hey, It is impossible to work with all those extensions at a single time.
Yes, it is.
I will share the most useful and productive chrome extensions you can use for your SEO in this article.
So continue reading.
Here are those awesome extensions.
1. open SEO stats Chrome Extension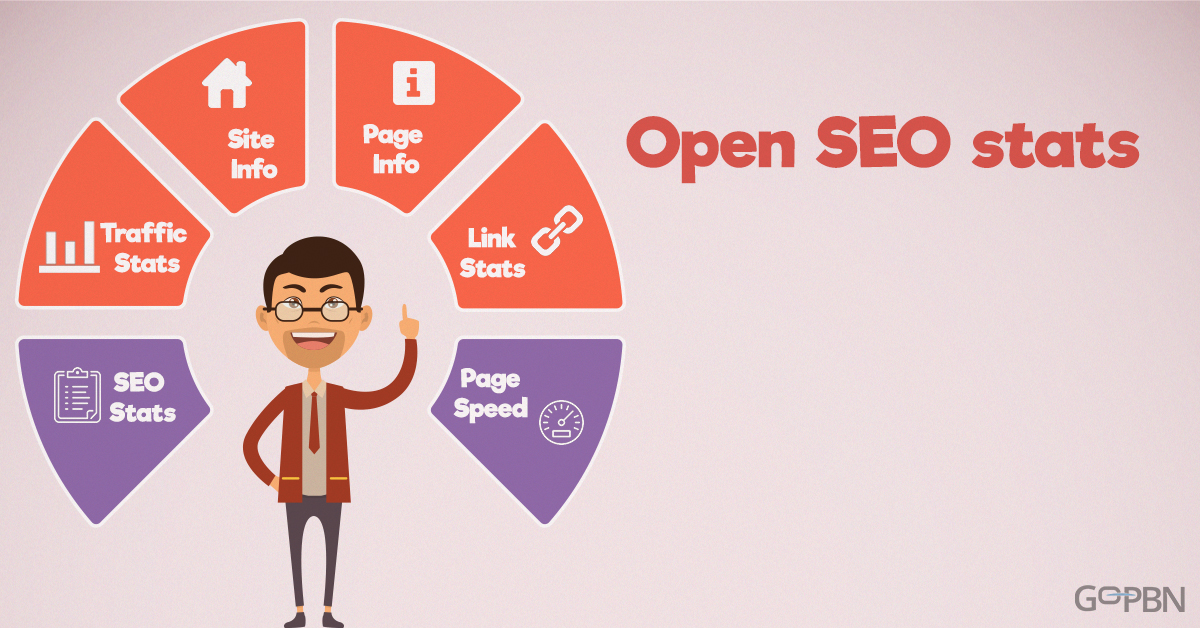 This is the first tool I found and started to use in the earlier days.
It is an all in one tool which almost contains all the essential details you require for the SEO.
Here is the Menu List of Such tool.
SEO status
Alexa Ranking
In this menu, you can see Alexa Rank which shows the historical graph of ranking of your site.
You don't need to go to the Alexa page to check your site rankings.
If you want to see the country wise ranking, click on that arrow bar, it will redirect you to the Alexa page.
Google Cache Information
We all want Google to index our web page faster, and many people are also using a lot of techniques.
The Cache information will give you whether Google indexes the page or not. If not indexed yet, you will see N/A.
If it is indexed, you will see the time and link to the cached page.
There you can see, how Google has viewed your content.
Archive Org
This is one more essential tool which is primary with Wayback machine.
People who are not aware of Wayback machine, I am once again explaining it here.
Wayback machine is a web Archive Machine which stores the websites. Not all the website will be stored in Wayback Machine.
Sites who have good traffic and authority will be saved here.
Because, if the site is visible to the user and have backlinks, then only Wayback machine can find the site.
Once your site is archived there, They Wayback machine copy your site every time you make the change on the site.
It will help you to see the historical changes of websites.
You might ask what the use of Wayback machine other than seeing the past site changes is.
For you people, Brian Dean wrote a fantastic article on his Skyscraper technique which teaches you how to use the Wayback machine for writing authority content.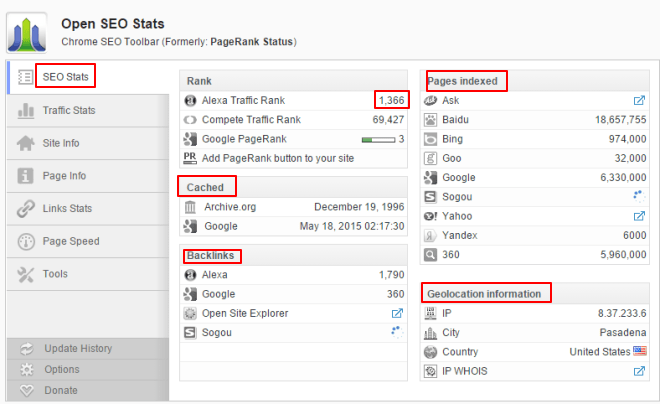 [Image Source]
Geological Information
It provides you the IP and hosting location, etc. You can get more information by clicking on the arrow link. It will show you the domain owner details.
Pages Indexed
This tool will show you how the search engines index many pages of your website. In this list, Google always has high number pages indexed ( Of course, they are big and leader in the Internet industry.)
It shows the list of 9 Search engines.
Backlinks
This tool connects you to the Moz Backlink checker tool where you can see the backlinks to your site.
The good thing about Moz is, it will show you the spam score for each links coming to your site. You can also spy your competitor with this tool.
Page Info
The page info extracts your Meta Data details and Header tags details. You can see how many Header tags you have on the page.
Link Stats
It shows you what all the external links you have on that page are. It also shows whether it is Nofollow or Dofollow.
Now you can add no-follow tags to any of the links to which you don't want to pass the link juice.
Note: Don't make all the links Nofollow. Link building is good when you do it by following the give and take policy.
If you don't give link juice, then think how others will pass link juice from their site to yours.
Webmasters are smart enough identify you by going through the site. So, keep your smartness away for some time while doing link building.
Also, only add Dofollow link for authority content which can be useful for your readers.
Click here to add this extension to your chrome browser.
2. Discussion button
You can belong to any niche. You can be a seller, writer, webmaster, and an analyst. The discussion button can help everyone.
Once, Google had the option to find out discussions on the web.
For that Google used to show the forums in search results. There you can find out what people are talking about any topic.
You can use that to identify user requirements, complaints, why they love it, why they hate it, etc. Here "it" can be the topic, product or any object.
After some time, the discussion button was removed by Google.
Now Google shows results like this screenshot.

But still, you can get the same function with this extension. All it does is, just adding google dark codes after that topic.
It will make the query in getting the more filtered result. The result contains full of forums where you can discuss and find new people to build the relationship.
How?
Let me tell you. No, let me show you.
I have added Discussion Button extension to my browser.

Now I am searching for social media marketing.
And this time Google gives me these results.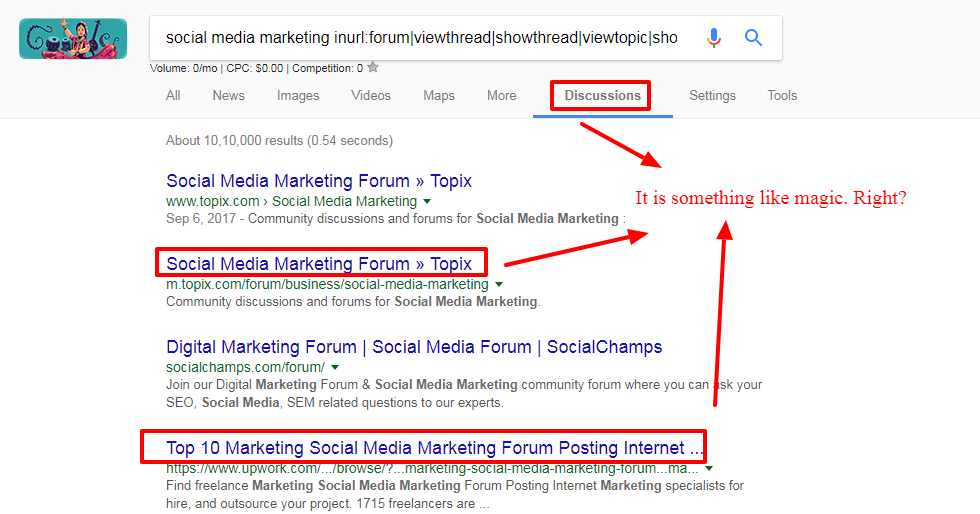 This is how it works.
You can join these forums and discuss your topic with different communities.
You can also build links from forum to your site.(I know this would be your first choice)
But, don't use the discussion button often with same IP address. Google will doubt that you are the machine and ask for verification.
You will also need these Google SEO tools for Search Engine Optimization of your site.
3. SEOquake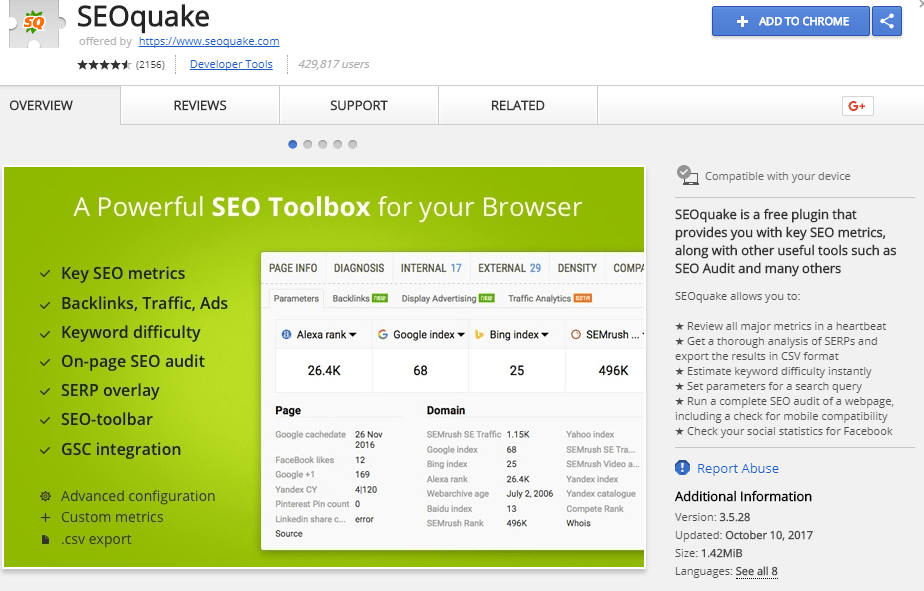 Click on the image to download it to your browser
Most of you people might be using and familiar with this extension. The extension is same as the Open SEO but has some advanced functions.
It shows important metrics such as Backlinks, Domain Score, Trust Score from Semrush.
To see the metrics mentioned above, you have to signup for a sem rush account. When you search for some keywords in Google, you can find the DS and TS of the website under each result.
One more advantage is that it shows the domain age of the URL in the search result. It works well for the Bing result also.
Need an example?
Here you go.

How to use SEOquake?
When you read a blog, you might want to check their keyword density. The seaquake extension does that job for you.
Simple click on that extension and then click on density. You will be redirected to another page which has the analyzed result of that page.
The result will contain the keyword density and where it appears on the page( Title, Description, Header tags)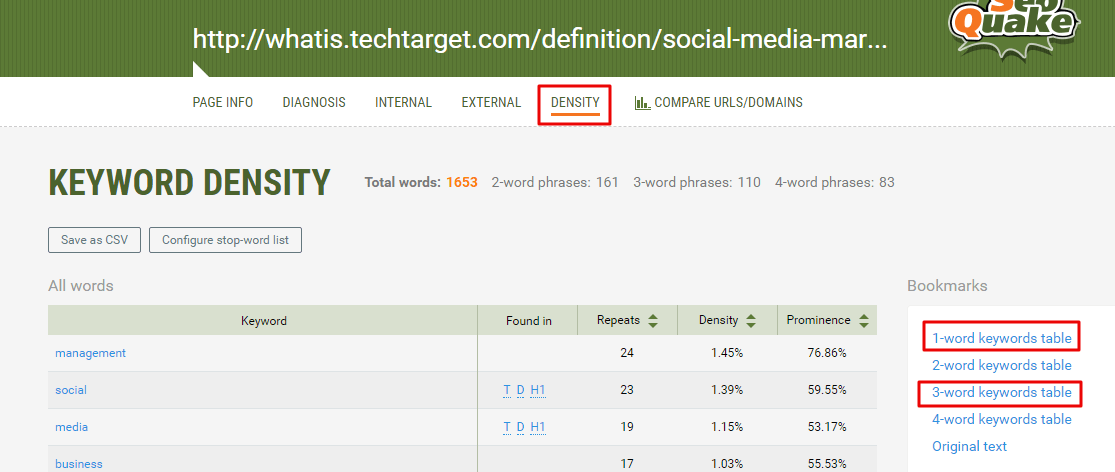 Look at the categorized keyword table which contains 1- word keywords, 2-word keywords, 3-word keyword and 4-word keywords table.
Here is the SEOquake tutorial to make it easy for you.
It will give you an idea of gaining long tail keywords from the competitor's page. It has more metrics to use.
Now it's time to add this extension to your browser.
4. Moz Bar
Moz, when you hear this name, you will remind your initial days of learning SEO by reading Moz blogs.
Moz is a big company which has strong authority in SEO.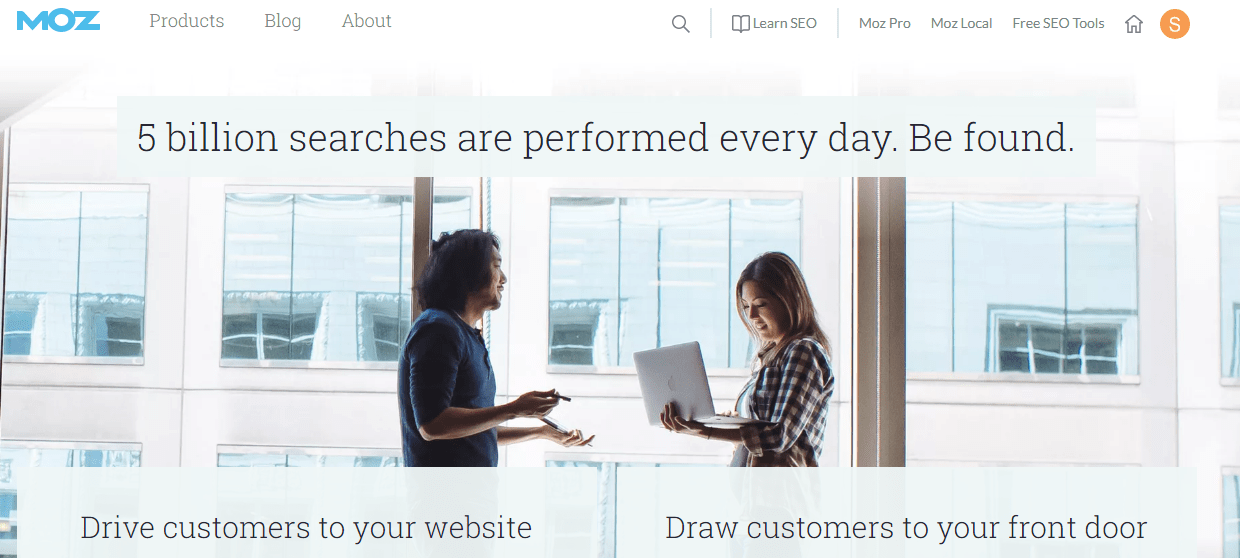 They have their search engine tracking tool Mozcast which always monitors search engine algorithm updates by identifying the drastic change in SERP.
Rand Fishkin is the main backbone of Moz, and you all might have seen his whiteboard Friday.
Now, I think, I don't need to say much about this Moz tool. Let us learn how Moz can help you.
When trying to improve the website ranking in Google, We will try gain quality backlinks, trying guest blogs, link buildings, etc.
But, we all have to do the evaluation of the site before trying to gain the link. Once, Google gave page rank as a metrics to evaluate the site.
Now, Google stopped providing the page rank detail. So, Moz comes in the place of providing the evaluation.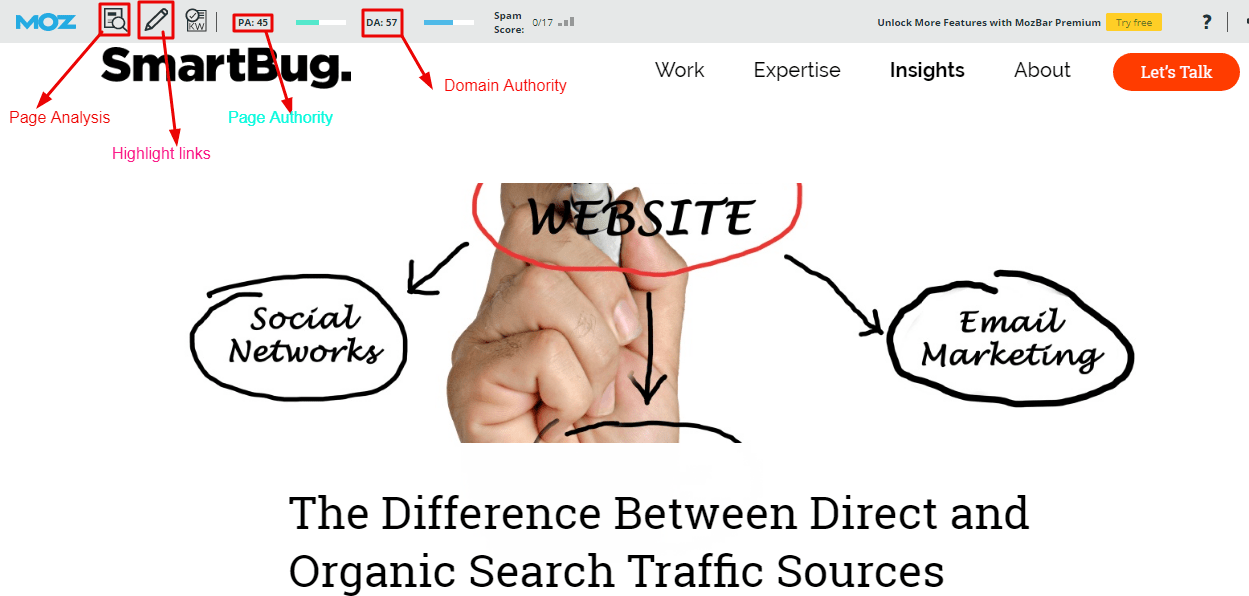 A lot of tools are out there. Still, most SEO guys are mainly considering Moz open site explorers for DA and PA.
The DA stands for Domain Authority, and PA stands for Page Authority. Instead of putting the URL into MOZ OSE, you can use their extension.
It is simple; you have to go for Moz login. That's all, now Moz will show you the DA and PA for every page you visit.
The tool also works on search engine results and provides the DA and PA for each result.
You can also guess the keyword difficulty by looking at the DA and PA of websites which ranks higher.
The Bar also shows the number of links pointing to that page. Just click on it, and it will jump to Moz OSE page.
Find this extension here to add it.
You can see all the backlinks there. Moz made it easy for you to download the backlinks.
Domain evaluation has a good place for Moz.
5. Keywords Everywhere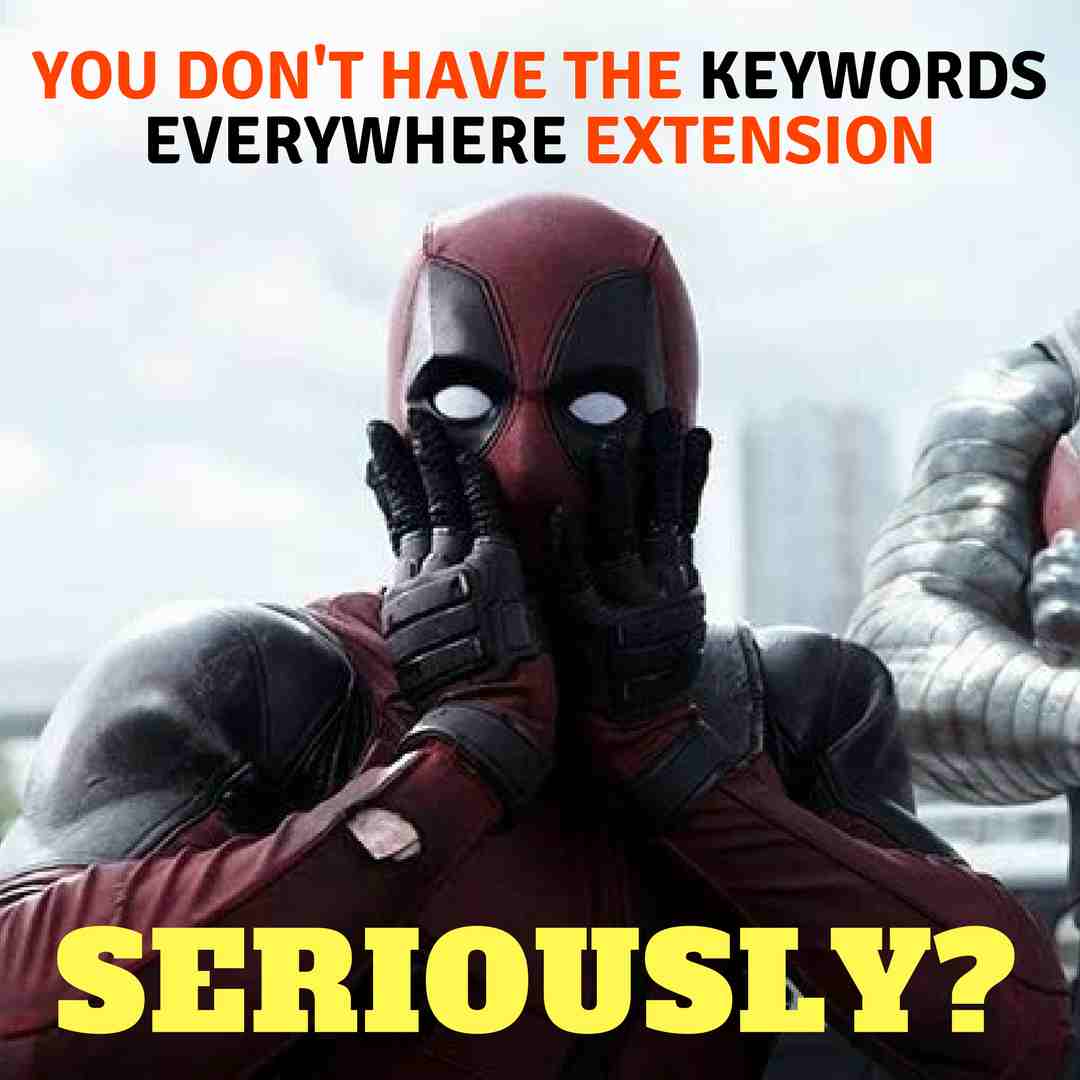 What will you do to get the exact keyword volume of the phrase you search?
Initially, you will be searching for exact keyword volume on Google keyword planner.
If you are running an ad campaign, Google Keyword Planner will show you the exact data. Otherwise, you will end up in getting Average Search Volume.
Do you like exact search volumes like 1600 Search per month or 1 K to 10 K searches?
You can't take next step without knowing the exact search volume of a keyword.
Here comes the keyword everywhere extension. It not only shows search volume of your input phrase in the search engine.

It shows Search volume for LSI keywords too. You will love it.
Whenever I do keyword research, I always download the list of 1000 keywords from Moz Keyword Planner and put it on Keyword Everywhere.
I will choose the medium tail keywords with 200+ search volumes.
This can be done through bulk keyword upload option in the keyword everywhere extension.
It not only shows the search volume but also shows CPC and competition.
You can download the keyword volume, competition, and CPC as excel file. It is simple to use.
Does Keywords Everywhere Tool also work on YouTube?
Let's find out.

Do not wait for a single moment, download this extension here right now.
6. Open Multiple URLs
This extension reduces my time in opening multiple URLs from an excel sheet.
You might have a question in your mind, why should I open Multiple URLs?
This question will arise for SEO newbies mostly. Let me tell you why.
There are a lot of backlinks checker tool is available at online, and they all are giving backlinks reports in Excel format.
We all are used to spy our competitor's backlinks using tools like Ahrefs, Majestic and Moz.
Your job is easy as you can download the links in one click. Now you feel like " I got the secret of My competitors."
But when you look at the actual file, you will realize the heavy work required for you to analyze. Now if the site has only a few links, it's ok.
But what if it has 1000s of backlinks in the report? You have to look through all of the links to find where your competitor's links are located.
Will you copy one single link from excel sheet and paste it into the browser every time?
No, you will become tired soon. I hate doing it. Once I was doing like this.
This is where you have to Open URLS. It is easy and simple to use. All you have to do is copy 30 to 40 URLs at a time and paste it into the input box and click open URLs.
Especially the chrome has been consuming a lot of memory. You should have a minimum of 4 GB RAM to do this. Otherwise, your system will go down for some time.
Once all the URLs are opened, you can go through the pages and check URLs.
Now the tedious job becomes very easy.
Resource: Best SEO tools for your site.
7. Impactana
It is true.
SEO analysts have many responsibilities but one of their main responsibilities is to analyze their competitor's site and pages.
Because in order to rank at higher positions than your competitors you have to create a greater impact on readers.
This is the place where Impactana joins your list of SEO extensions.
Let's see what they have designed for you.

As they say, Two metrics are considered here.
BUZZ:
BUZZ stands for analyzing the social signals any page or site is getting from social media.
It tells you how many shares a particular content is earning on different social media platforms like Facebook, Twitter, Google+ and others.
Now you can understand what content is becoming popular in digital space.
You can focus on these ideas and create such content for your website or blog.
IMPACT:
This set of metrics helps you analyze the user-engagement your competitors are getting.
Let's have a look what it gives you.
The number of comments made by your audience.
The number of links on your website.
Also, the number of viewers.
Need an example?

User-engagement on social media and actual user-engagement on your competitor's website might have a difference.
Keep this in your mind while using this extension.
8. Check My Links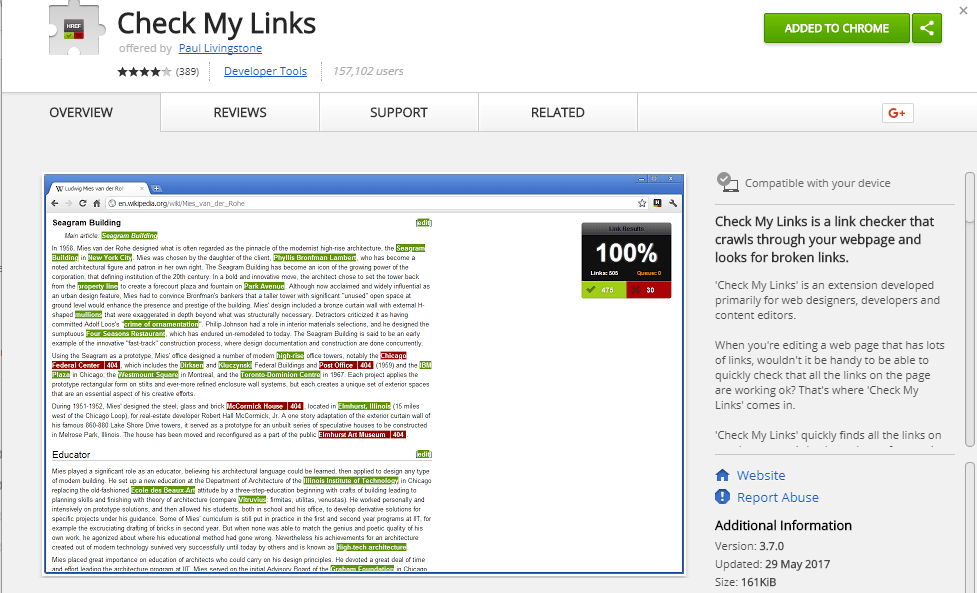 Two popular questions are making so much noise in my mind.
Which is the best broken link checker online?
How does this extension help you for the free SEO analysis?
As an SEO analyst, you need to know your purpose first to use this extension.
How much do you know about broken links SEO?
You know that one of the best ways to improve your domain authority and increase your page ranking in is to earn backlinks.
Backlinks matter a lot in eyes of Google.
Because to rank higher in search engine page results your, blog or site must have backlinks from relevant and authoritative sites of your niche.
It signals Google That you are providing a useful and informative content for its visitors.
And guess what?
That is your mission to do SEO. Right?
But how to do SEO successfully?
The answer is broken links.
Chrome extension Check My Links helps you find out the broken link on the websites of influencers and leaders of your market.
but, How will you get backlinks?
Look,
When you inform them about their broken links, you give them a favor.
In return, you can be awarded a strong relationship and backlinks for your site.
While approaching for broken links, you can also offer a replacement for them from your pages.
If you do this the right way with authoritative sites of your niche, you can expect some real boost in your domain authority and page ranking in eyes of Google.
It is little hard to digest. Right?
Here are the three steps to make it easy for you.
Install Check My Links Extension to your chrome browser.
Find a website name to build a relationship or get a backlink for your website.
Visit the website and click on the extension and
Here is your example:
I visited this Blog and clicked on the Check My Link extension.
And I found this.

You can see this page has 154 valid links (Green ones).
But that is not what you are looking for.
You have to search for invalid links which are highlighted with red color.
When you click on this broken link (Red one), you reach here.

That is what makes this extension the best broken link checker.
Now you can approach them if you want to join their friend's list or simply to earn a backlink from them.
This is how this extension works for you and plays an important role in the search engine optimization of your site.
9. Grammarly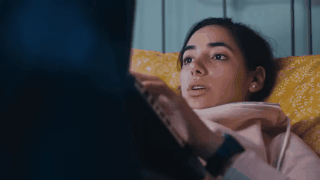 Yes, The pace of change is Really remarkable.
What?
Should I omit the word REALLY from above sentence?
Absolutely right.
When I started my writing career some years ago.
Being a non-native English speaker I used to make a lot of grammar mistakes.
Content writers have to write a lot of content and they never have enough time to proofread it and check their mistakes.
This used to irritate me so much because I have to spend a big amount of time to find out and correct all those mistakes.
Then I came to know about a friend.
It has some kind of magical powers.
Do you want to see it?
Then click on this wonderful video from Grammarly.
https://www.youtube.com/watch?v=uLFiZfvL_L8
It detects all grammar mistakes automatically and always suggests me to improve my content to make it free of any mistakes.
That friend is Grammarly, a chrome extension to help you write better.
Grammarly comes in both paid and free version for you.
The free version works well but it has limitations.
Pro tip: Type Grammarly login in your search engine and log in your account. if you have not registered for it then go for Grammarly sign up.
I have something for you here.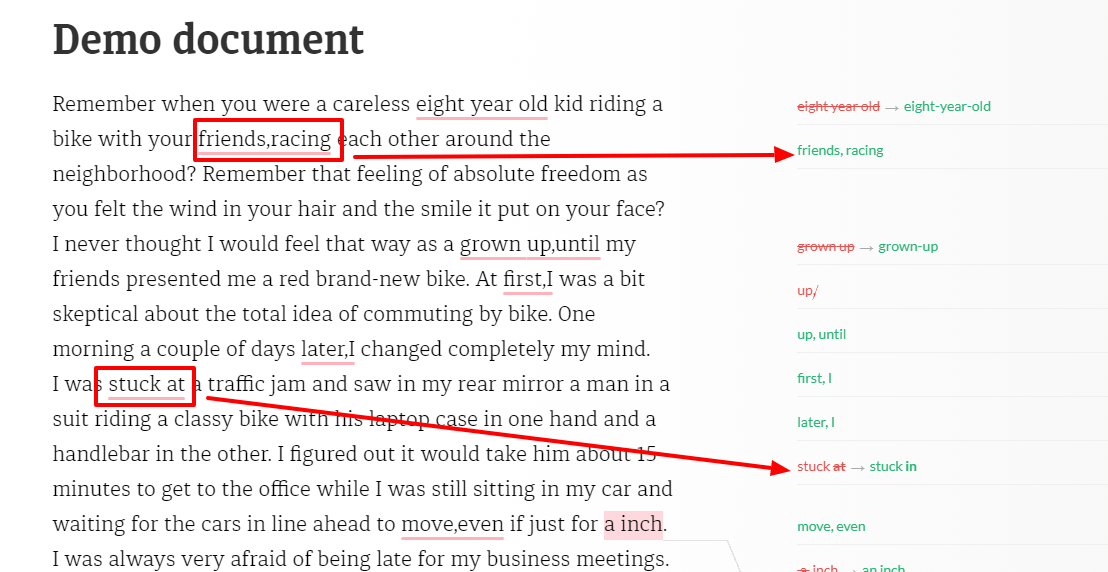 But the paid version of Grammarly has more advanced tools which guide you through advanced grammar mistakes.
It also takes care of plagiarism and leads you to write an original content for your readers.
It saves the most precious thing you have, your time.
Go for it right now.
Because you just can not afford to ignore this extension for your SEO at all.
Do not forget to add this extension to your browser.
10. Awesome Screenshot: Screenshot Recorder
There is a reason why I am writing about this extension in the last of this article.
Because you have already seen a number of screenshots in this article.
And you know well how they helped you to understand what I talked about in different sections of this article.
Because if you can show your readers what you are talking about.
You remember the last screenshot above.
How do I take screenshot?

It improves their engagement with your content and gives them a practical approach about how to use it for their benefits.
This online screenshot capture extension will help you take a screenshot of anything you want to put in your article in form of an image.
You can also use these options in your screenshot.
Cropping your image
Highlight
Color
To take and use screenshots for your blog, visit here and add this extension.
Conclusion
I hope this list of extensions and its details will help you a lot. When you are on multiple tasking, this tools will be very useful for you.
All these extensions are free and will help you in a lot of ways.
Resource Utilization is the best thing which makes you productive within the limitations.
If you are using any other type of extensions, comment it here.
It can benefit other people.
Thank you!