Last week, we covered about the 132 SEO Glossary, Terms, and Definitions in our blog.
And today, we shall know, more in depth about SMM that is Social Media Marketing.
But What Social Media Marketing is?
— Social Media Marketing means a company which is advertising their product or service on a single or various social media platforms. It is done to generate and divert massive traffic to their website and to make sales.
Companies can choose the platforms on which they want to advertise based on their product or service.
But as Social Media Marketing is not very expensive, companies widely do advertising campaigns on all of the major platforms such as:
Facebook
Twitter
Instagram
Snapchat
YouTube etc.
Social Media doesn't restrict it to only these top platforms. Any other website or application through which a company can reach an X number of audience is known as Social Media Marketing.
So let's learn more about the widely used jargons in Social Media and Social Media Marketing –
A –
Advertising Networks – Ad Network is a company which associates with both Advertising corporations and the websites for ads. They help websites to find the advertisers who want to publish their ads online.
And help advertisers to publish their ads on suitable websites as per the demand.
Adwords – Google Adwords is an advertising service which helps marketeers display their ads on Google and it's networking websites.
Application Programming Interface (API) – An API is a software which let one website interacts with another.
Avatar – In forums and Social Network, Avatar is an image, graphic, or username which represents a person online.
Average Handling Time Average Handling Time is the average time required for a company or an individual to resolve their customer's issue or query on social media.
Average Response Time Average Response Time is the average time which a company or an individual takes to reply to their customer's issue or query.
B –
Banner Ads – Also called as Web Banners, it is an ad placed on the host website which links to the advertiser's website.
Behavioral Segmentation – A brand or an individual can target its customers online, based on their behavior like knowledge, attitude, use and response towards them.
Bitly – It is a free link management platform. It is mainly used to convert long URLs into a short link for social sharing. You can see the usage of such short links in Twitter or Instagram too.
For example, you can check out our Twitter page here – http://bit.ly/2f9fgLV
C –
Call To Action – CTA in an indirect order given to the audience by provocating them to click on the link mentioned by them.
Like – Order now, Click to know more, Check her out for more, Call now, Find out more, etc.
Canva – Canva is an online graphic design software through which a user create and print designs such as posters, cover images, blog graphics, invitations etc for their Social Media Platforms.
Clickthrough Ad – A clickthrough ad is where a user once clicks on an ad is redirected to the advertiser's website. It is the most common way of social media marketing.
Clickthrough Rate (CTR) – CTR is a common metric for calculating that how many times did a user clicked on the given ad. It is a percentage calculated by the number of impressions created, and by the number of people clicked on it.
D –
Dark Marketing – Dark marketing means where a brand is sponsoring a website or an ad without letting the users know.
Display Ads – Display ads are like banner ads in the form of images, graphics, audio, video, etc. posted on a website.
Disqus – Disqus is a blog comment hosting system which lets you build up a community on your blog where you and your users can interact, discuss queries with each other to increase the user interaction engagement.
E –
EBook – Ebook is an electronic book which can be read online. It is mainly in a PDF format and can either be purchased by paying a certain amount of money or can be accessed online for free.
Employee Advocacy – Here, employees plays a role of an advocate of their company and maintain a good reputation of it online. They also share about the products, services or events of the company through their personal social media presence.
Engagement – Social Media engagement means where a user is interacting with a brand by liking, commenting, sharing their article, website, images, etc. It is crucial for a brand to survive in today's world and it can only happen if their social media presence and interaction with their users are high.
Engagement Rate – It is a standard metric to calculate a user engagement on social media by their likes, comments, and shares.
F –
Facebook – Facebook is today's one of the biggest social media platform where one can post, share, read, view information about a brand or an individual. It is also a great platform for networking and marketing about your brand.
Filler Content – It is the information or data that people copy from other sources and publishes it on their page, account, or website.
Flickr – Flickr is an online picture gallery website or an app in which you can edit, upload, organise, share or find a picture as per your need.
Followers – Followers are the users who follow you on your social media page or account to know about your latest messages, updates, images, videos, and ads that you post on your account.
Following – It is when you follow a certain brand or other regular users to get their updates when they post them on their account.
G –
GeoTagging – Geotagging is adding a geotag in the form of metadata to various images, videos, and data posted online. It is a geographical information attached to the content.
GeoTargetting – Geo-targeting means that a brand is delivering different content to its users based upon their geographic locations.
GIF – Graphics Interchange Format is a bitmap image widely used by people. It is a short animated file or an image used for entertainment purpose.
No Coffee Frustration = Current Mood!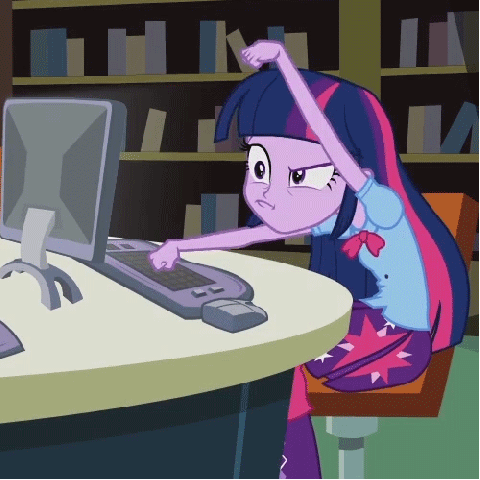 Source: Giphy
Google's Apps and Websites
H –
Handle – Handle is a username on Twitter. Like @GoPBNCloud is our username, that is, it is our Twitter Handle.
Hashtag – # – Called as Octothorpe, it is a widely used tag for highlighting a particular keyword or a sentence. It differentiates the keyword from the main text and is clickable.
For example – #GoPBN is our special hashtag, and you can find all the document, images, blogs or videos published by various users under one roof if they also use the same Hashtag.
I –
In-game Advertising – Advertising popping up in between a game that you play is In-game Advertising and is majorly used by the brands to promote their products or services.
Instagram – Instagram is one of the biggest picture sharing social networks. Users can click a picture, apply a filter and post it on their account.
It is a great app which brands can use for their marketing. There are millions of brands who interacts with their followers and also sell their products or services to them, and the response rate is also excellent.
K –
Klout – Klout is an online website and an app which analyses and measures your social media influence and presence of various platforms like Facebook, Twitter, Youtube, etc. on the scale of 1-100.
L –
Like – It is an actionable way of expressing that a user likes your post or image rather than commenting or sharing.
LinkedIn – LinkedIn is networking site for business professionals.
Live Streaming – Live streaming is a way of showing the video to the users in real time. People can also interact with the one who is streaming the video live.
M –
Meme – A meme is an image or a video with text and is made just for humor purpose. It is also an excellent way to gain publicity because a meme spreads rapidly if people like it.
Meerkat – Meerkat is an app with live streaming feature and is also connected to Twitter.
N –
Native Advertising – Native Advertising is a type of online advertising which is disguised as content, and so the content doesn't look like a paid ad.
News Feed – Newsfeed is your Facebook homepage with news, articles, images and videos all over your feed.
O –
Original Content – It is a self-made content out of research and ideas. Audience and search engines, both love original content. It will help you to attract more traffic to your website as people do not have any other website to open due to the individuality of the content.
Organic Reach – Organic reach is when your article or news reaches a unique number of users (not the same users) in an unpaid organic way.
Ow.ly – Ow.ly is another link shortner website which shrinks your website or page URL for various social media purpose.
For example, you can check out my Twitter account here – http://ow.ly/YYQr305A1AF
P –
Paid Social Media – It means that either a content is paid for or content in which an ad is paid for. Usually, it refers to Facebook ads, sponsored tweets, sponsored images on Instagram, etc.
Periscope – Periscope is also a widely used Live Video streaming application where a user can show a live video to people in real-time. Brands can use this when they do a product or a service launch because users can also interact with the brand which the live streaming is going on.
Pinterest – Pinterest is a content sharing online website and an app through which people can share multimedia and can pin images, videos or quotes into their pinboard.
Podcast – Podcast is a digital audio file series created by a user and is available for download on the Internet. There are many artists or brands which became famous using Podcast.
Q –
QR Code – QR code is now a widely used two-dimensional and machine readable barcode. It is used mainly for scanning URLs with the help of the mobile camera and a barcode scanner app.
These days, brands are majorly using QR codes for advertising about their products or services.
Quantcast – Quantcast provides free audience demographics and details which a brand can use for targeting a specific audience. It also provides real-time advertising to those specific audience as well.
R –
Reach – Reach is the number of people a brand can target to display their advertisements.
Real-Time Marketing – Real-time marketing is a technique where the brand has to market or publish relevant content about their product or service as soon as news is out in the market.
Retargeting – Retargeting is an advertising technique in which a brand retargets the users who have already visited their website or their page once and to the user's list in their database.
S –
Skype – Skype is a widely used website and application for having a video call with your friends and family.
Brands can also target users based on their geographic locations.
Snapchat – Snapchat is a trending application right now and is majorly used for sharing a 10 second live video or a picture with friends. Brands are also targeting using geotags and post live videos on their accounts.
Sponsered – A sponsored post is a paid post by a brand to reach a specific number of audience and to generate traffic on their website for making further sales.
Social Media Monitoring – Social Media Monitoring is a way of monitoring and responding to their user interactions.
Social Media ROI – Social Media Return on Investment is a calculation of how much a brand has invested in social media and how much income they are generating because of those investments.
T –
Text Ad – A text ad is a link in a text form – if clicked it redirects the user to the advertiser's page.
Tumblr – Tumblr is a microblogging and social networking website which allows a user to a share and post various multimedia like images, gifs, music, videos, quotes etc.
Twitter – Twitter is yet again one of the biggest social media sharing website where a user can read and post tweetswhich is only limited to 140 characters. Now, a user can also post gifs and videos in addition to the tweets.
Twitter is also a fantastic platform for marketing about your brand or yourself. Twitter is also famous for its Hashtag (#) trend where people tweet about it and make it rank on the trending page.
A brand can also promote a hashtag naturally or by paying a certain amount of money.
U –
Mentioned Below –
V –
Viral Spread – It is a way of seeing that how quickly a news, image or a message is spreading across the various social media platforms.
Vimeo – Vimeo is an online video sharing website and app in which a user can view, share and upload a video.
Vine – Vine is an online social video sharing website where one can upload a six second continous loop video for entertainment and can share it across other social media platforms as well.
W –
Webinars – It is an online seminar or presentation held by a company, team or individual to teach or inform about a topic to the audience. It can be a live stream or a pre-recorded webinar. The audience might need to sign up before to get access to the video or presentation.
Y –
YouTube – YouTube is the biggest video sharing website and is widely used. A brand can target a huge chunk of audience via YouTube Ads.
P.S. – We have covered these related terms in our another blog.
– Algorithm
– Analytics
– Anchor Text
– Backlinks
– Black Hat SEO
– Bookmarking
– Click Bait
– Content Management System (CMS)
– Conversion Rate
– Gateway Page
– HTML
– Impressions
– Inbound Link
– Keyword
– Keyword Research
– Landing Page
– Link Farm
– Long Tail Keywords
– Meta Tag
– MFA (Made For Advertisements)
– Pay Per Click (PPC)
– RSS Feed
– Search Engine Optimisation (SEO)
– Search Engine Marketing (SEM)
– Social Media
– Social Media Marketing
– Title
– Title Tag
– Traffic
– Traffic Rank
– URL
– User Generated Content (UGC)
– Vlogs
– Web Crawlers or Crawlers
– White Hat SEO
Click here to check out the SEO Glossary article for the remaining terms and definitions.
---
Hope this list of SMM Glossary was helpful to you.
Do you still have doubts about some specific terms?
… Ask us in the comment section below!
And…
..share this article with your friends and subscribe to get the latest news in the SEO industry!