If you are very new to the SEO industry, you may not be heard about the term organic traffic. Let me explain that to you.
What is Organic traffic?
The Organic traffic is the free traffic which you will get from search engines and social media.
Here in this, The organic traffic you get from the search engine is always higher than the traffic from social media.
The reason for this status is
Search Engines focus on user queries and returns the results.
Social media focus on users interest and shows content according to that.
Here, the major difference between both of them is duration.
The search engine will give you long-term traffic and the social media will give you short time traffic to your blog or site.
This is because in social media the post will be shown to the user for the particular time after that a new feed will press the current feed to the bottom.
But:
In the search engine, there are no such things like feed which can push your post to the bottom.
However, there are more competitors who are always looking to create awesome content and outrank your site with the link building techniques.
Getting into Google's first page is not easy and instant process. It will take some time based on your content quality and backlinks.
I will talk about this part later.
Now:
We can classify what works in social media and search engines.
Social media – viral contents, eye-catching titles.
Search Engines – In-depth contents, brand value, trust, links to the site, social signals.
Let us first start with the search engines.
If you like to get search engine traffic, you should work smartly.
Basically, search engines work on analyzing the customer query.
The Queries can be divided into three types
Informational query
Navigational Query
Transactional Queries.
What are Informational Queries?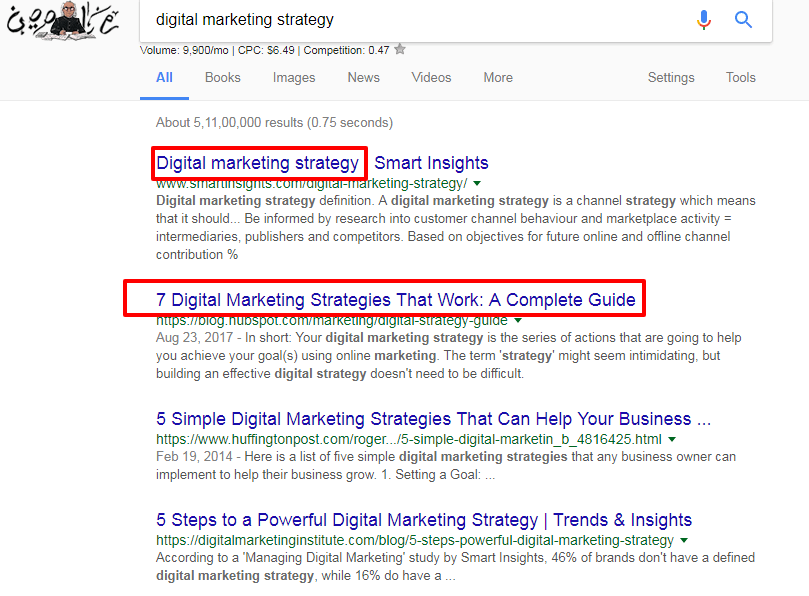 The user enters a phrase in search engine with an intention to gain some information.
E.g: If you search for SEO beginner guides, Google will show you a list of URLs with awesome contents.
You can go through the sites from the results to read about the SEO.
Here, the user intention is to know about SEO. This means he is searching for the information about SEO.
Transactional Queries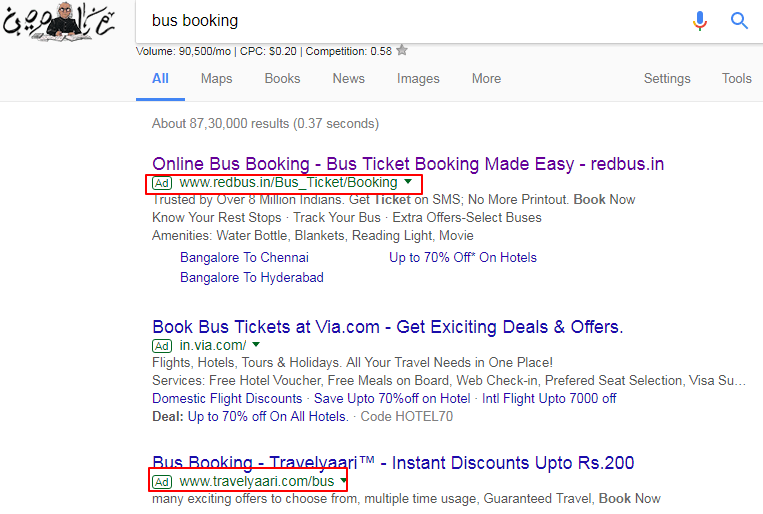 Transactional Queries are made by the user to gain service or buy a product online.
If you search for bus booking, you will be listed with online bus booking provider sites where you can book your tickets.
These keywords are targeted heavily as they convert well.
Navigational Queries

The Navigational Queries will give the user about a specific website or web page.
The Amazon is known to everyone, here people search "Amazon" on Google and the search engine will show the Amazon site.
Users only intention here is to enter into the Amazon site.
People who search "facebook" on Google, only click on Facebook URL.
The Navigational Queries are basically the brand name of product or service.
The main thing about the keyword classification is what keyword you should target.
What keyword should you target to make money?
Most people's Mistake
The main mistake of people who doing SEO is targeting the wrong category keywords.
Here is what type of keywords you should target.
You can classify your website into two categories.
Service selling or product selling
Blogs
If your website falls into the category your site should
target transactional keywords.
If your site comes under the second category, you have to target informational keywords.
The transactional keywords are hard to target and you have to find a new one which has the less competition.
That also very hard part. but it is necessary to identify the converting keyword for you.
The major branded sites are always ranking for the transactional keywords, this because of the age of the site and links to the site.
Also, their brand keyword is being searched multiple times on Google and it gives authority and trust to the site.
If you want to target competitive transactional keyword, you have to ensure the following
Make the web page large
Mobile optimized
Make it load faster
Mimic the quality backlinks of your competitor
Create Individual Pages for the service on site
Give the Brand signal to your site
Frequent social signal
1) Make the web page large
If you are selling a service and creating a web page about the service, you have to create a detailed web page.
A good quality service selling page will contain the following.
It will reflect its brand color everywhere.
It will explain about product feature.
It will show the user how the product can benefit the user.
The page UI will be good and created with an intention to convert.
Brand Colour: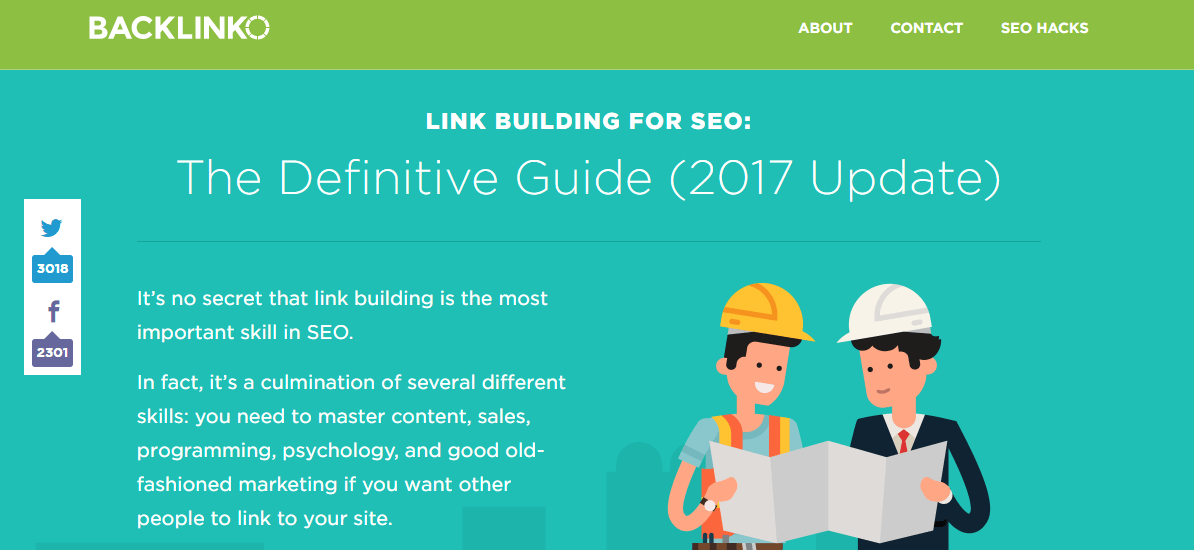 A quality website will have its own brand color and reflect it on everywhere on the web page.
If you have multiple colors on your website, then it will distract the user and won't give good experience.
The brand color is an attraction to the user and it will make the customer remind the site.
Because it is very easy to remember a web page with single or double colors whereas the website has more colors are not easily rememberable.
Clear Product Features
Every service selling has product features.
But,
I am talking about more authentic and in-depth product feature.
If you like to show the uniqueness, you have to talk about the product features which your competitors are not showing.
Here, you can implement your additional keywords naturally and rank for them in google.
If a user can't find the product with its specific feature, he will search for" Product+ Features"
Here, you will have the chance to rank and acquire him as a customer.
A good selling page will display long product descriptions.
Showcasing Product Benefits
If the user knows about how the product can help/benefit him, he will tend to buy it.
You have to showcase the user, how the product can benefit him. Add all the benefits of the product.
This will create an interest to the visitor about the product. The visitor will likely to convert as the customerwhen the product benefit matches his expectation.
Good UI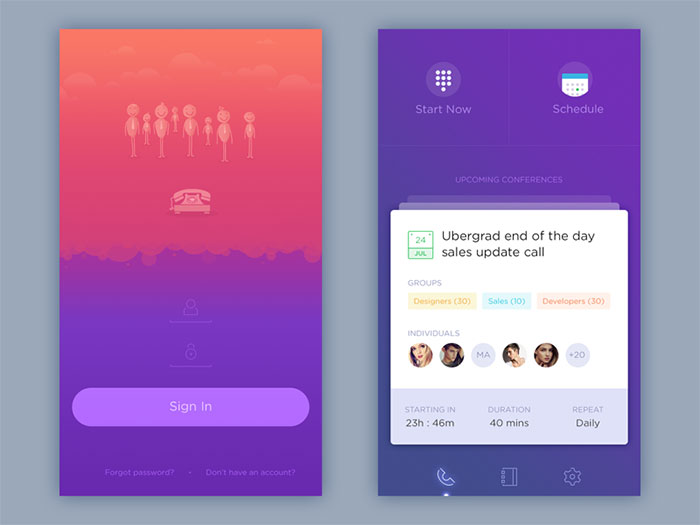 Image Source
You might be added product features and benefits.
But:
If your UI is bad, your customer will leave the site immediately.
Here, The UI plays the important role and makes your customer stay at the site.
A good UI represents an easy to use website which is very clear to the visitor.
It will have good background design, selected fonts, perfect header located in the correct place and big opt-in buttons.
Dwell Time.
If you follow all the above things, the page dwell time will be high and it indicates that your site has the better user experience.
Dwell time is the time of visitors stays on the web page.
The user will take the time to read the product features and benefits. This helps you in both ways( Creating Trust and Google signal)
All of the above changes in a site gives a good user experience. This is what Google is expecting from a site.
2) Mobile Optimised
Google is crossing almost 100 billion searches a month. The search engines users are increasing day by day.
The reason behind this is increased mobile internet usage.
Once upon a time, we were able to access the internet through a wired connection to the system and it was very slow.
After that, the speed has increased and people started to use the search engines a little by little. But those computers were not affordable for most of the people.
Even if they could afford, most of them avoided the internet connection due to its cost.
After that, Internet connection to the mobile was established but those mobile were costly and people don't like the browsing experience on a small screen.
After some time, the smartphone was designed and the internet speed also has increased. This made the many people use the internet.
But the mobiles were not yet affordable for many people.
Then the search engine giant stepped into the mobile world and enhanced the Android operating system and made it available to all.
The android gave the good user experience and availed at low cost. This has increased the mobile internet usages and made a lot of people to access the internet through mobile.
Now more than half of the 100 billion searches are made through mobile devices every month.
So Google started to give more preference to the mobile-optimized site in their search result. Even Google released AMP to load mobile site so faster.
You can see Google providing more preference to the AMP pages in their search result.
You can implement AMP codes on your site. If your site is WordPress you can use the WordPress AMP plugin.
If you are not optimizing your site to the mobile users, then you will lose a lot of traffic.
Google even released algorithm for the mobile users.
The algorithm filters the web results for mobile users. Only those sites with mobile optimized pages are ranking in the mobile search results.
The first thing for a mobile site, the entire page breadth should fit the mobile screen. The mobile user should be able to scroll up and down.
The site should not be scrollable side wide. Also, the button should be well visible to the users.
Go to Google mobile friendly testing tool and check your website.
https://search.google.com/search-console/mobile-friendly
If it is mobile friendly, then Google will show your Page is mobile friendly.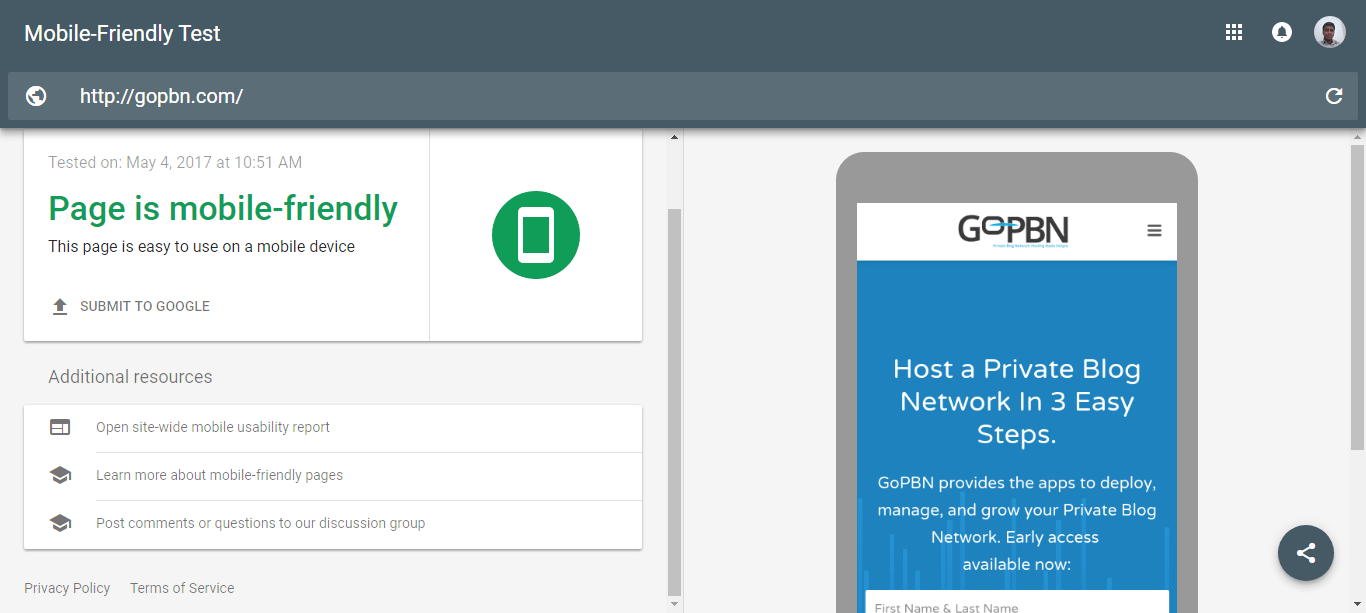 If the page has any issues, it will also be shown on the page like below.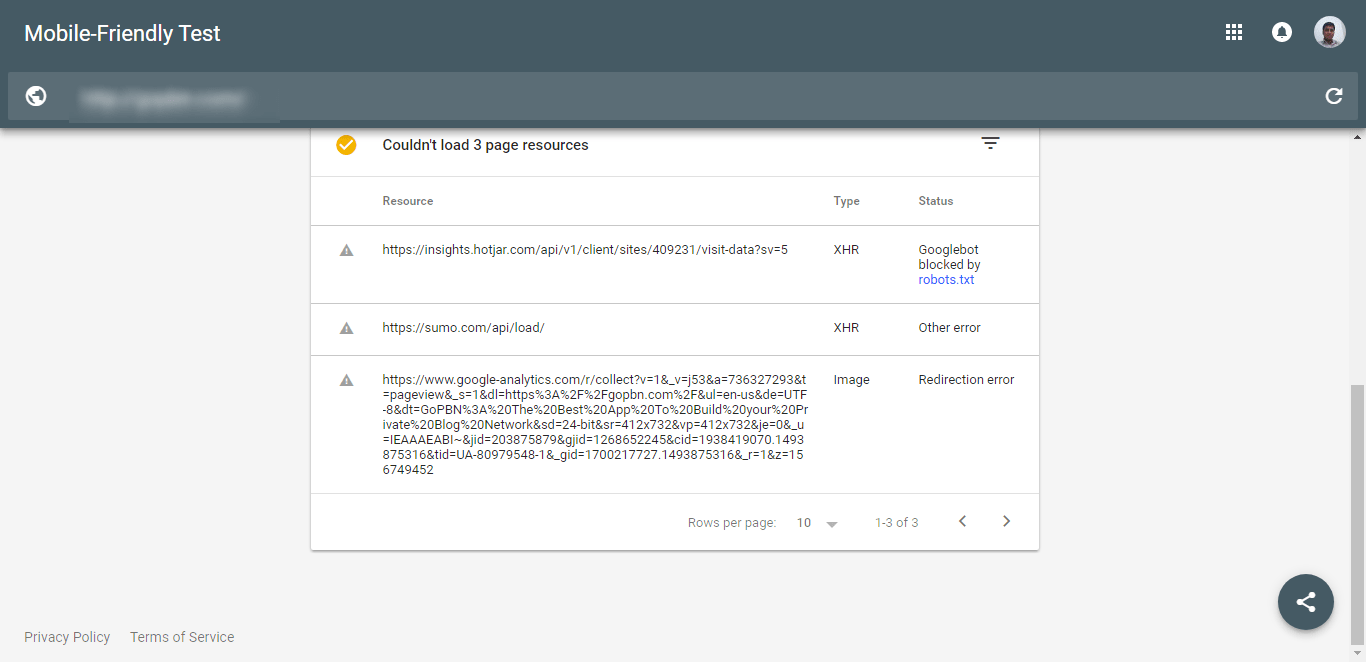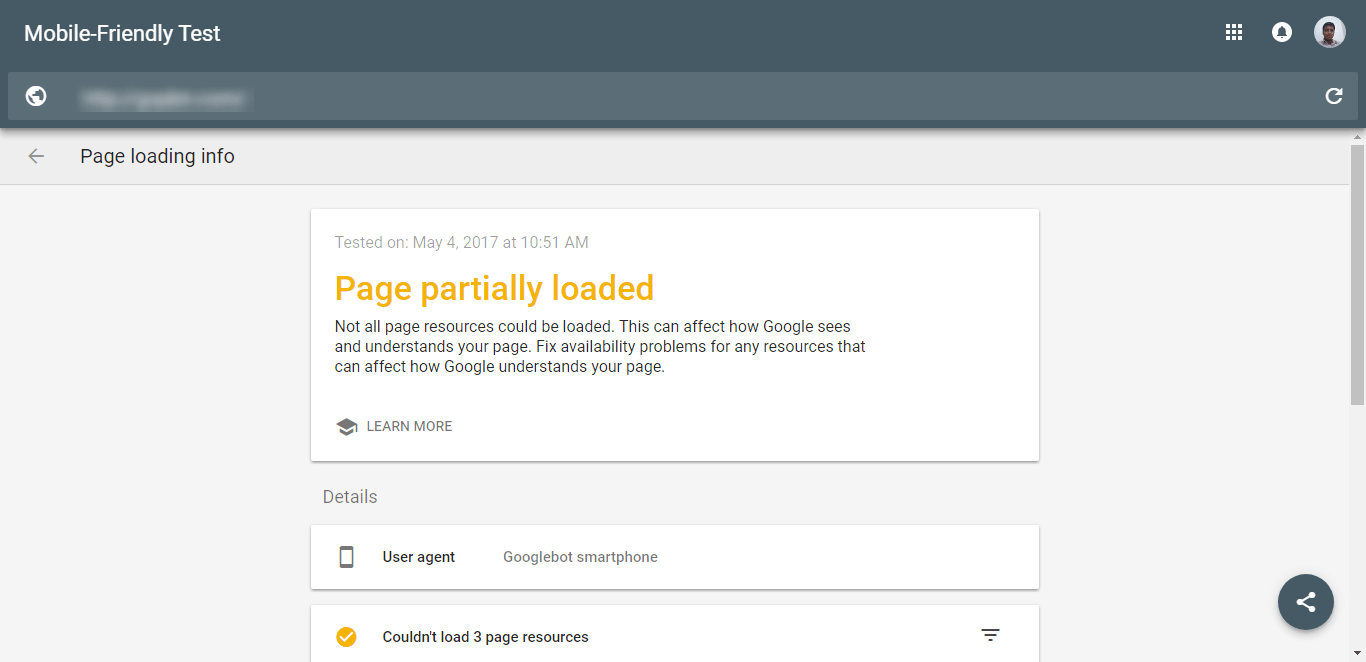 Look at the issues and resolve them.
3) Make it Load Faster
Loading speed of your website is one of the very important tasks. If you have good UI, content and quality backlinks and have long page loading time, then you are not going to rank on the Google's first page.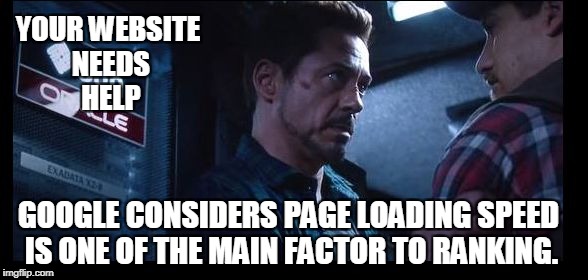 Google Considers page loading speed is one of the main factor to ranking.
If your page takes more than 3 seconds time, most of the user will possibly leave your site.
So, there is a big chance that the user will hit back the back button and return to SERP.
This is a very bad sign for Google, also the bounce rate increases. This will cause you loss in rankings.
So, Make sure your pages are loading faster within 2 seconds. It will take your site user experience to next level.
To check your page loading issues head over to google page speed test.
Enter your site URL.
Google will fetch the website and checks the page loading speed issues.
Mainly the issues arise because of the following.
Uncompressed images
More CSS
Browser Cache Leveraging
Render Blocking Java Scripts.
If you have more images on your site and want to compress all of them in one click then use this plugin.
You can compress 500 Images at once using this plugin using the free account.
It saves a lot of time for you. You can pay and upgrade to cross the limits.
It is especially very useful for blogs and sites which have large and more images.
If you have blogs, you won't face the CSS issues.
But if you build the site with more elements, then more inline CSS will be added. This cause the page to load slowly.
Make sure that you are not adding more elements to your page.
You can use Cache Plugins like WP-Rocket to solve the cache issues.
When a user loads your site the second time, the site will be loaded faster due to the cache stored in the browser.
The Server Response time is one the issues. You can solve that by doing the following things.
1) Make sure to use fast servers.
There are a lot of web hosting companies available. But not all of them providing fast servers. They use old servers which have the outdated configuration.
Make sure to host your website with quality web hosting service providers who use recent hardware.
2) Don't use shared hosting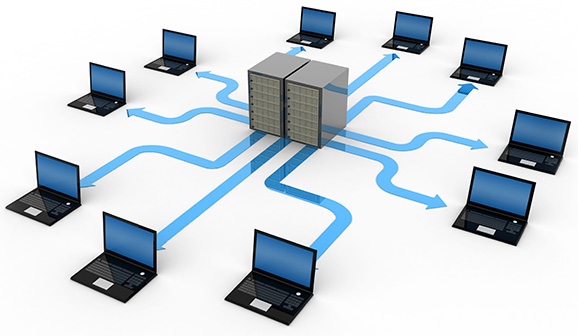 In order to save money lot of people are using shared hosting at initial stages for their large websites.
This is a big mistake and I am suggesting you to not to host your large website in shared hosting even if it gets few visitors.
Instead, use dedicated resources to host your site.
3) Use SSD hosting
If your site has more media files, you have to use SSD hosting. The Solid State Drive is 300% faster than normal HDD.
The websites which are rich in media content should host their site on SSD host.
So your website content will be loaded faster at the user end.
4) Make sure to host your site very near to your visitor locations.
If you have targeted country audience, you should choose the nearest location to host.
For example: If you have the e-commerce website which serves Europe client, you have to host that website on servers located in Europe. If you are focusing the Indian customer, you have to host the website on Indian server.
So, the latency will be reduced to the minimum.
5)Use CDN for faster loading speed if you have the global audience.
The above case always not suits for all sites.
If you target the global audience, you have to use CDN to make your website load faster at the user end.
CDN stands for the content distribution network. The CDN service provider has their servers all over the globe.
Once you connect your website to the CDN, your website static content will be stored to all of its servers located around the globe.
Your site will load faster at the user end regardless of its hosting location.
If a user requests your website, then the data will be sent to user from the nearest CDN server to the location.
4) Mimic the Quality backlinks of Your Competitor
You see, Still, the Google has the Backlinks as one of the major ranking factors.
If you take all the above steps, then only you have to come to this step.
I told you, how important are page loading speed and mobile optimization regardless of backlinks.
So, complete those steps and come to this step. Otherwise, you will not see the result.
If you did all the above steps. then it's good. Let us see what to do next.
As I mentioned above, if you want to rank your website, you need backlinks.
Here, you might ask me, How to find resources to build links and to outrank competitors.
This is the tricky task at the same time it is easy to find the resource to build links.
Let me show you how to do that.
You competitors are ranking well for your keywords.
The Reason behind this is their on-page and off page optimization.
Here, you can create the web page fully optimized for users which are more user-friendly and perfectly optimized for SEO in on-page wise.
But:
You might know the off-page strategy of your competitors. Off-Page SEO includes
Backlink Quality
Social Signals
You can find your competitors both backlinks and Social Signal using the tool Ahrefs.
You can also use Buzzsumo to find social signal level.
Let us see, How to use Ahrefs to find backlinks.
Ahrefs provides you with a free trial, you can use their paid version which gives more data.
Use Whatsmyserp tool to find the top 10 search result of Google for your keyword.
Scrap the URLs.
If the home page of a site is shown in the result. Just skip it. Only copy links which are separate pages from their home page.
There is a special tool in Ahrefs which finds the common referring domains of your input URLs.
Here you can find the common backlink source of your competitors.
Just put the URLs in Link intersect and make sure to select exact URL. After that click on Show Link opportunities.
All the common referring domains will appear now.
Export all of them.
Now, your task is to analyze those domains and build links.
Make sure to ensure the relevancy of the sites and start building links.
You can also individually input each URL and find the relevant link building opportunities.
Try to build links to your competitors quality backlink sources.
If you can acquire links from those quality resources, your site will start to move up the positions.
The Overall Domain Authority is also important to rank on the first page.
If you build links to your pages, the domain authority will increase little by little.
Make sure to build links slowly and steadily. If you build links faster, it will not be a thing to Google's eyes.
So, instead of following uniformed link building, follow Logarithmic Link Building. Randomizing link building also works well.
You have to follow all kind of link building types and follow certain types. Here the most basic types are
Article submission
Web 2.0 creation
Guest Posting
These Basic types give you contextual backlinks. If you have great contents you can follow advance link building methods like
Sky scrapper technique
Broken Link Building
Moving Man method
Gaining backlinks from the higher authority site.
Here, you have to work hard to gain these links. If you can acquire these backlinks, your page will definitely reach Google's first page.
If you are still following old way of link building for the competitive keywords, then you should follow the above methods.
5) Create Individual pages for the site.
If you have more services to offer to your clients, you have to create individual pages for that service.
Do not combine two or more services on a single page. It will reduce the opportunity for rankings.
If you create an individual page for individual services, you can concentrate and rank for a lot of less competitive keywords in Google.
The Pages will rank in Google sometimes even without backlinks.
A lot of authoritative domains have a lot of active pages on their websites. So they generating traffic through the pages.
You can interlink all of your pages which will increase the chance for the pages to rank well in Google.
If you have more pages, you can diversify the incoming links.
Instead of looking for the opportunity to build links to your homepage with different resources, you can use the same resources to build links to individual pages on the website.
It will boost up your overall domain authority of the site.
6) Giving the brand signal to your site.
Here what is a brand signal?
Brand signal means the reflection of your business name on all over the internet. Here are the Major Brand Signals.
User Searching for your Brand Name and click on your site( Navigational Queries
The talk about your brand on social media( Hash Tags, website mentions, Name mentions)
Other websites mention your brand name on their site and brand name with backlinks.
Reviews about your service on other sites.
To make the user search for your brand name, you have to market your business through the various platform on the internet. Some of them are
Social media Promotion
Press Release about your product launch
Forum Promotion
Provide Offers
Paid Promotion
Most Importantly content marketing
Social Media Promotions
If you want to spread your brand and acquire new customers, you have to do social media promotions.
Facebook, Twitter, Reddit, Instagram and more platforms can be used for your marketing.
If you want to promote organically, you have to build an audience for your profile. After that, you can market them.
It is not easy to promote a product organically through social media and the reach will be low.
But:
If you follow viral content marketing strategy on social media, you can gain get good brand identity from social media.
For example, RedBull targets young people to sell their product.
They create a video which is full of adventures and post it on facebook.
The Result:
Most of the people like the video, comment on it and sharing them in groups and on their own timelines.
The result, the organic reach increases, and more people are viewing the video.
Most people sharing the video since it is full of adventures. But here the brand name of the Redbull also shown at the end of the video.
Here, People come to know the Brand little by little.
The Another good example of viral video marketing is Tipex Hunter vs Bear Video.
This video is very fun and viewed by millions of people within few days.
Tipex sells the whiteout tap. They want to increase their brand visibility through video marketing to increase the sales.
That ends up in creating a funny viral video which has more than 40 Million views and 1+ million social media shares, exposure in more than 200 countries.
The final result. It increased the sales of the product by 30% instantly.
Press Release about product promotion
Releasing an Eye Cache Press Release about your Product is one of the ways to get customers attractions.
Still, people are looking at newspapers and the online magazines are very effective.
Here are the things you should consider while creating a Product Launching Press Release.
1) Make an eye-catching title
It is a must because people skip your content if you don't have an attractive title.
2) Talk about one Product feature which people cares.
Talk about one Product features which solve people problem. Don't bombard them with multiple features.
3) Publish through a perfect publication to reach the customers. Not all publications suit you.
Based on the publication category and reader base, you have to select and pitch them.
4) Talk about customer story
It is always better to ask the customer feedback and publish it. If you are just talking about how it helps, people won't trust it.
Only the user experience makes them give a try of the product.
These things have to be considered while creating a product.
Forum Promotion:
This is one of the underrated promotion strategies and not many companies are using it.
The forum is the one where people talk about problems and ask questions to get their answers.
The potential and targeted customers are always hanging in the forum.
This is where you can promote the product.
You can start a threat and promote the product or you can offer the product as a solution to one of the customer's problems.
Not all the forums works. Only Niche specific forums have the ability to give you potential customers.
Provide Offers
if you are serious about promoting your product, you have to provide offers. This will bring you the following benefit for you.
1) People will search for your "Brand Name+ Offers", "Your product name+ Offers".
So, here the brand signal is automatically generated by the user for you. It is a good sign.
2) Third party websites acquire your offers and publish it on their websites. Here you will get,
Traffic and sales to your site
Natural Backlink to your site
Brand Mention on the site
Free Promotion of the product
Paid Promotions
If you want to know your brand to people, you cannot avoid paid promotions. If your company is new, the SEO and content marketing will take time to work.
Only the Paid campaign and viral video marketing (We have learned about that in the above section) can give you a quick start.
These are Paid Promotions which can get you customers
Google Adwords ( It has SEM, Video, and Display)is a good place to start advertising.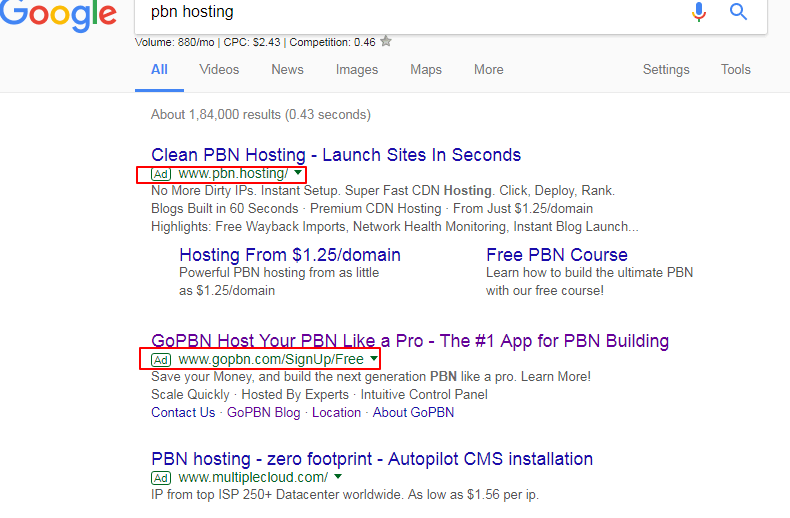 Acquire potential customers through SEM and Spread branding through Display. A good video campaign will get your site to next level.
Facebook AdsWith more than a 1.5 Billion users, Facebook is unavoidable to acquire new customers and gain brand value.
The Viral Video Marketing works best on Facebook.
Linkedin is the best platform for companies who like to acquire B2B sales.
Most of the Professionals, CEO and High authority of the companies are hanging out on Linkedin.
So Make use of Linkedin Advertisement.
Content Marketing
This is one of the biggest parts of marketing. If you launch a good content marketing campaign, you will get the following
Trust
New customers through SEO
Brand Visibility
Long-Term Results.
Content Marketing is in various forms. The major ones are
Written content
Video content
Podcast
The companies who have blogs are acquiring more customer than those who don't have.
The content should be the solution to their end customers problems.
E,g Hubspot.
Hubspot is providing Sales and Marketing related Services and training. Their main resource of customer acquisition is their Blog.
They publish contents related to Marketing and sales.
The Result:
People who search online regarding marketing and sales queries and solutions end up on their blog.
Their biggest blog is enough to attract the customers with their problem-solving content and the visitor more likely to be converted after some time.
Here Hubspot gains reorganization and trust. These are two elements required to gain a new customer.
Hubspot is doing that brilliantly.
E.g of Video Marketing is Let's talk Institute.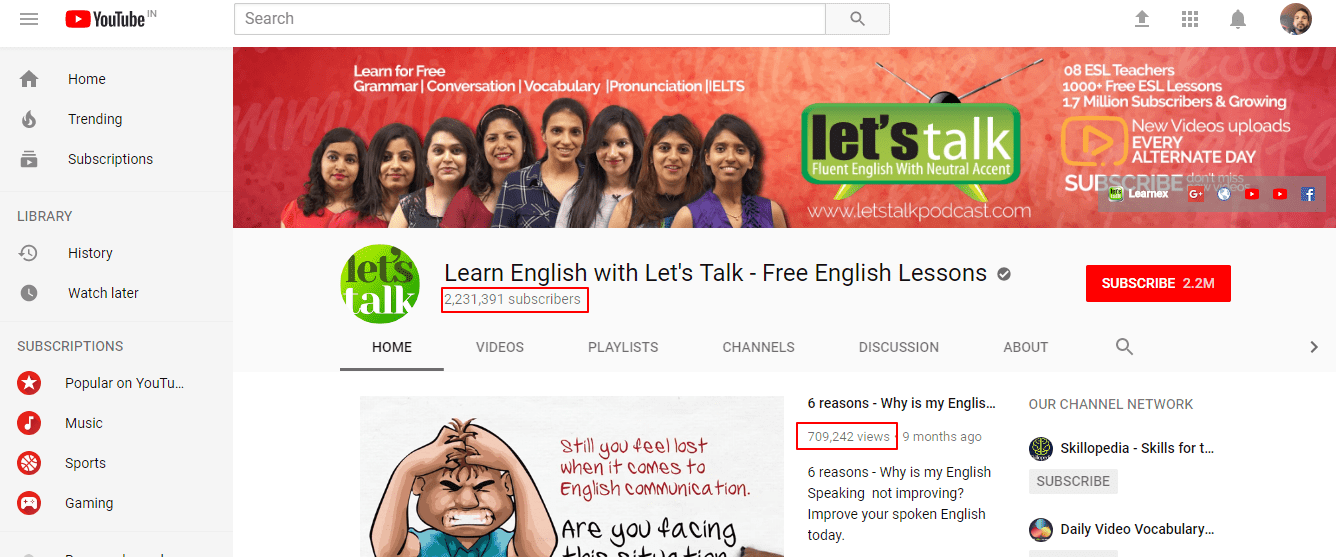 The Training Institute has been creating serious English speaking tutorials.
You see most of the people are like to learn English via video. Let's Talk Institute has brilliantly done the video content marketing.
The videos they have uploaded were viewed by millions of people.
The viewers are getting attracted to the video course and watch more videos from them.
Here, the trust is being built with the viewer. People who like to learn English will likely to visit their nearby Institute.
They also search for the brand name in google and end up in landing the site. They get business and brand signal both at the same time.
7) Frequent social Signal
This is one of the essential things for a brand. A brand should be active on their all social media channels.
If you continue posting on all the social channels, it sends an indication to Google that you are active.
Look at all the major brands. They are always active on the social media channels.
It is one of thing to be considered as a brand signal by search engines.
If you do all the above steps properly, you will see the movement of your site in the search engine results.
Your site will reach the first page of the google for the targeted keyword.
We have seen how to get organic traffic to your site. Now let us see, how to get organic traffic from social media.
Organic Traffic from Social Media
The traffic from social media is called as referral traffic. We cannot always depend on search engines to get the traffic.
Search engines work well for evergreen contents.
But:
The temporary contents won't rank well on the google.
The reason, your content will be short and written with the intention to cover the temporary stories.
Here, people won't search for those type of contents in google.
You might have a question that how can you get the traffic and make people read?
You have to do two things
Reach People via Social Media
Give them content with interesting stories.
The Major sites which getting high traffic from social media are Viral sites and News sites.
The example of a viral site is Buzzsumo and Example for the news site is Business Insider and The next web.
In the Mid of 2015, facebook concentrated more and news sites. The result, those news sites are started to get the visitors from social media.
Facebook overtook the google in giving traffic to the news sites and viral sites.
The news from the news sites are temporary and should be read before it expires. Because people don't tend to read old news.
But:
This differs from viral sites. The viral news has the ability to gain traffic at all the time. They won't expire until you find a new way to tell the story.
Even if people already had read about, they will still show the interest to read the same interesting story presented in a different way.
Because A lot of viral sites are providing the same news with different titles and story written in another style.
I am sure you would have at least read same viral news site on different sites.
The attractiveness of title will make you click and read the story again and again.
Let us see some of the social media and works on them.
Facebook
Reddit

Viral News
Political News

Pinterest

Tips and advice
Informative articles
These are all the major social media's which can bring you a lot of traffic to your site.
1) Facebook
Facebook is giving a lot of traffic to the viral sites and news sites.
The Parse.ly news site has reported that Facebook referral traffics overtook their search engine traffic.
48% of their traffic came from Facebook as of 2015 and they got 38% of traffic from their search result.
It shows the potential of social media especially the Facebook bigger one of all.
Facebook has more than 1 billion monthly active users and more than 1.5 billion users.
What works on facebook?
Magnetic title which attracts peopleThe title can be questions, Emotion inducer, Interesting, Pang to click and funny.
These will attract viewers to click it on the social media. The one thing, you have to remember is content quality.
If your title is attractive and your content is not satisfying and justify the title, you won't get anything.
If your content justifies the title and induces any emotions of the readers, then your content will be reacted, commented and shared. This will increase your traffic.
Even Facebook started to show the related news in the feed.
Here your content will be shown after the user shown interest in the content which is similar to your content.
For example: If your reader reads a viral news about a dog who saved his master life in another media and you are also covering the news.
And it started to gain user engagement, your news will be shown after the reader completes the story and came back to Facebook from the news site.
Your news will be shown in related stories feed.
The user doesn't even need to be your page follower to get the news in their feed.
So, your chance of getting traffic from the audience who are not within your reach is very high. Here you are not limited.
That is why I love Facebook.
More engagements more visibility. This is the Facebook formula for you to get more visitors to your site.
Hot News
If you are news publishers, you can publish recent news and attract people from Facebook.
To get started with that you need a decent follow-up on Facebook.
You can earn those follow-ups with Facebook page promotion option.
Hot news also exactly works like viral news. If you are posting news about the trending topic, you will likely to get more traffic from Facebook.
Reddit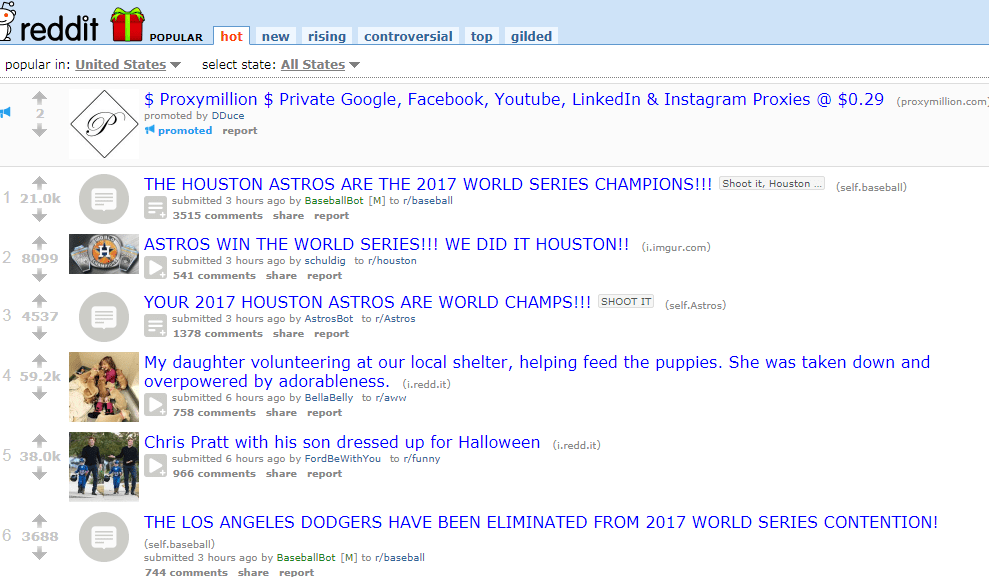 Reddit is one of the biggest traffic generation source for your website.
If you are publishing viral news on your site, you can generate traffic via Reddit.
But, Before posting your URL on the Reddit, you have to be a Redditor.
If you are simply putting your URL and pray for the traffic, you will be kicked out by the fellow Redditors.
Redittors Hate self-promoters and they don't hesitate to attack them directly on Reddit.
The result you will be kicked out from Reddit.
So, what to do to gain Traffic from Reddit?
First Rule: Be a Redditor and not a spammer.
You have to continuously participate in the Reddit conversation and help others by upvoting also you can do some downvotes( If you don't like the post).
So, you have to have a frequent engagement in Reddit.
if you are coming to post your links, then you should be ready to go away at the moment.
There are three things to be a good Redditor.
1) Engage more
2) Make less Post
3) Don't think about spamming.
There are two types of Karmas in Reddit.
Comment Karma
Post karma
Here Karma is the point which you will gain when a person upvotes your posts and comments.
Why is Comment Karma Important?
If you have more comment Karma, it will show your engagement with the community.
You can't get comment Karma easily. The sense of the comment and placement of the comment will decide the Karma.
I will tell you how to do that.
First, find a post in new or rising section. Don't go to the hot section.
The reason is hot section has the promoted post. A post promoted on the page when it gets a high comment and upvotes.
So, if you trying to comment that, no will be able to read your comment.
Because the promoted post always has 1000 of comments and only first few of them will be notified.
Once you find the post, your next task would be analyzing it. If it has humor or interesting, make a comment with humor.
make sure to comment before the post gets five comments.
Now your comment will gain visibility. Since you added humor, people will start to upvote it.
But, if the post did not get many upvotes, then you can't expect comment karma from your comment.
If it goes viral, you will gain visibility and comment Karma.
If you see any photo post or innovation content, just make some appreciation in a comment. You will get an upvote for your comment.
The command Karma showcase your engagement to the community and get you out of spammer consideration zone on Reddit.
Now:
Let us see, how to increase Post Karma
You can even win the comment Karma with some humor and appreciation comments.
But gaining post-Karma is not that easy.
If you created a new account and looking to make a post directly to gain the Redditors attention, it won't make any good impression.
If you try that again and again, I give you the assurance that your account will become a ghost.
That is what we call dead accounts, Only you will see the existence of the account and the account and its post won't be visible to others.
So, first try to gain some comment Karma and engage with others post.
If someone thinks that you are doing a suspicious thing, they will check your profile manually.
If your profile is full of posts without any engagement, it will ensure that you are a spammer.
But, if your profile has the list of upvotes and comments, it will show you as a real user.
After sometimes, you can start posting on Reddit. But initially, don't post any links which are pointing to other sites.
Post images and Gifs to gain the attention. Especially post any funny GIF, you will get the attention immediately.
You will start to get upvotes soon. Sometimes your post will have the chance to go viral.
There you will get a lot of posts karma's in a day.
The only thing you have to care is kept engaging with Reddit posts after that.
Even, if you can't get a high number of post-Karma's in a single you will get it day by day.
but you have to do the above things continuously.
Once you earned High Post Karma, Then it is the time to post your site links. But don't post it frequently.
choose the best post and post the link on the Reddit. Now you will get traffic.
You will get heavy traffic if the post goes viral.
Your Post Karma will give the visibility to your post.
Frequent your website post randomly.
Don't follow any uni formal tactics. You will get caught.
3) Pinterest
The tips and tricks types of posts are working well on Pinterest. Pinterest is actually an infographic social media.
If you have a very good infographic, then you can get good visibility from Pinterest Users.
You can get traffic for your evergreen content from Pinterest. The specialty of Pinterest is its algorithm.
If you have pinned a post, you will get viewers for it for a long time. It won't lose its visibility like facebook post after some time.
Instead, that post will be shown to the relevant users. If you keep concentrating on Pinterest, you will definitely be going to get traffic from it.
Here are the main topics which always trends on Pinterest
Travel
Food and Drink
Crafts
Home Decorations
Fashion
Photography
Art
Design
Top 10 Lists
Tips and Tricks.
If you can create content under this topics, you will surely win the Pinterest Traffic.
Other than that, you can join Pinterest group boards.
These group boards always have many users and will give traffic to your site.
If your post is performing well, Don't hesitate to share it with the group. You will get more engagement with your Pinterest pin.
Even, your pin will get the chance to be featured on the home page of many Pinterest users. It will show your pin to relevant people and you can convert them well.
Here is the website which showcases you the group boards pingroupie.com.
Here, the site will show all type of Pinterest group boards, just search for your category and join the group.
Once you join the group, start contributing the group. Interact with other pins and like them.
After sometime pin any of your good posts.
Don't forget to add the good image to the PIN. Even if your content is good, you should keep a good image.
Otherwise, you can't impress people. The attractive image will get you good impression and CTR. You will get likes which will increase your visibility.
Now, you will get the traffic.
These are targeted traffic and you should be ready to convert them.
When you get organic traffic, you should have a conversation tactic to gain the visitor email, phone or anything.
If you started converting, then you will be able to get them back to your next post by contacting them.
Here, you won't be depending on the search engine traffic and social traffic.
However, they are the major one which gives heavy traffic to you.
Conclusion
If you are very new to the online world and looking to gain traffic through the search engine and social media, follow the above steps.
Don't confuse yourself by reading too many kinds of stuff. There are a lot of tips available online. They are good an works well.
But if you don't know how to execute them one by one, you will fail. Because you will have confusion in executing the steps.
I have made your job easy by providing the steps. Just follow the steps as it is.
Kindly let us know your thoughts about this in comments.