Wow,
You survived with Your On Page SEO.
You experienced and won all those hard obstacles.
Like, how to optimize your site for a higher ranking and how to create high-quality content for your trusted readers.
Including Meta Title, Meta description, URL, and everything else…
You worked hard and did a great job.
Excellent!
But, Wait?
What about Off Page Search Engine Optimization?
Are you still struggling with Your Off-Page SEO?
Is Off-Site SEO only about getting backlinks from other websites?
A lot of SEO analysts will debate for hours justifying Off-site SEO only exists for earning backlinks.
This is not entirely true. Is it?
We will clear it soon further in this article.
Well, You already know how this can affect your overall performance in eyes of Google, who will not rank your site on the first page.
Unless you increase the authority of your site and show Google your ability to serve its visitors better than any other competitor of yours.
But, How will you do it?
What will it take your site to top Google Ranking?
How can you reach influencers, and Other master bloggers to help you to rise as a shining star of your SEO.
You want this all. Right?
I have got your back now.
This article will help you to take your Off-Site SEO to the next big level.
All you have to do is reading it till the end, understanding and using all the resources to grab the top position in Goole Ranking.
Here we go(Not Fast and Furious, OK).
Save it for the growth of your site authority and higher ranking.
Pro Tip: If you are a complete newbie in SEO world then this article What is SEO and how it works will help you.
What is Off Page SEO
Tell me one thing, have you ever heard these names like Social Networking, Blog comments, email outreach, video submissions etc.?
What?
I know that you are already familiar with all these factors which drive traffic to your site.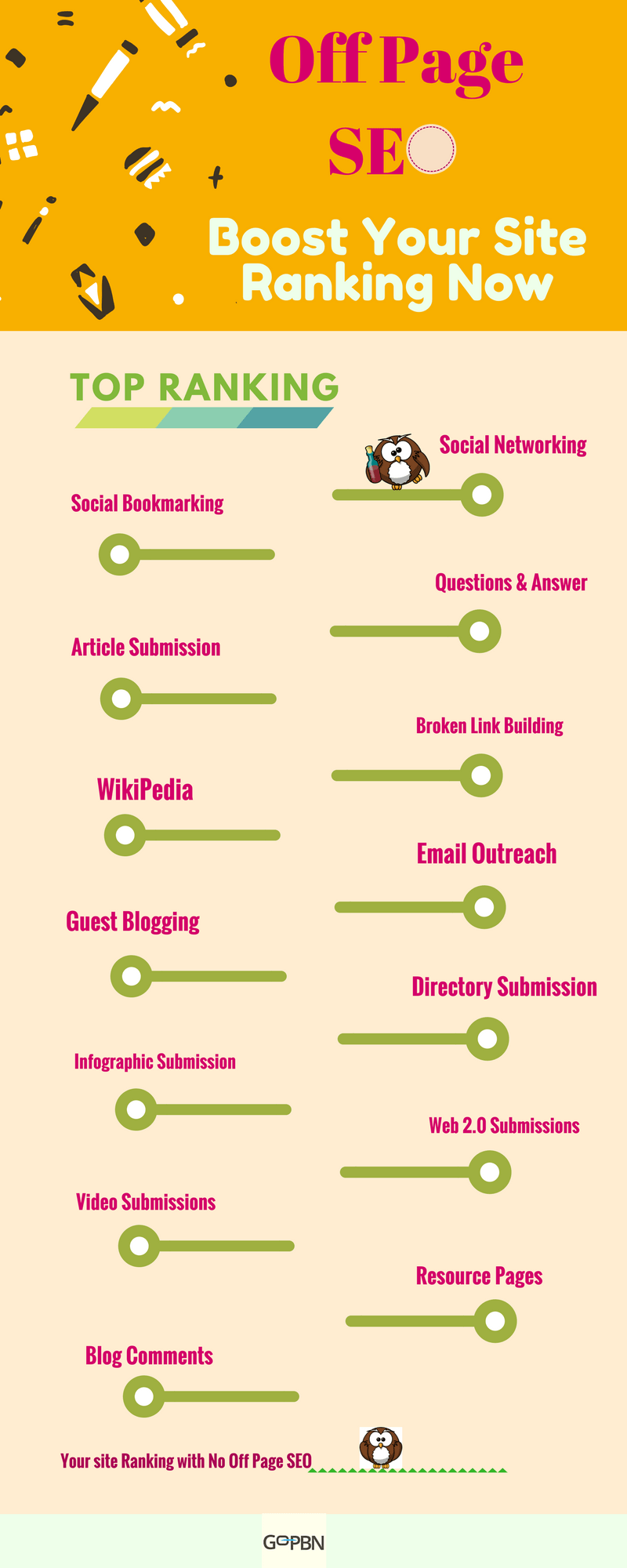 I will cover all elements of this infographic later in this article.
Just keep reading to learn about them.
Before understanding Off-page aka Off-Site Search Engine Optimization, let's get a quick look on SEO.
What is SEO?
Here is what Wikipedia says about SEO.

Didn't make much sense. Right?
Oh! It didn't make any sense at all. OK, OK.
I told you, I have got your back.
Now read this,
SEO is the process of earning quality traffic on your website by virtue of optimizing your site and its content to win top position in any search engine's page results.
By earning quality traffic I really mean that you have to earn it.
You have to utilize all genuine and possible ways to rank your site.
You have to work on the design, speed and every technical aspect of your site to make it comfortable for your visitors.
And you just can't ignore one thing.
The importance of writing high-quality content.
And using videos, infographics, image optimization and relevant resources to actually help your readers.
If visiting your site doesn't make them feel a better experience than your competitor's sites then forget the top ranks.
I will share an important resource on On Page SEO in next section of this article.
So, continue reading.
Off-page SEO is to use all of the techniques, activities, and measures outside of your website to rank your page higher than your competitors within search engine page results.
But,
What are the important factors of Off-Page Optimization?
They are:
• Getting Links from the homepages of relevant websites.
• The number of domains linking to your website.
• What is the page ranks of the linking page?
• Page authority of linking domain.
• Links are relevant or not.
On-Page vs Off-Page SEO, don't do this anymore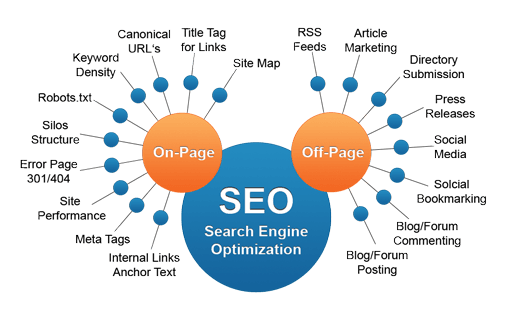 :
Some authors sometimes compare Off-page SEO with On Page SEO.
And such comparisons always ends with proving one is more important than another one.
I will suggest you to not focus on it at all.
Both are equally important for your site to get high ranking and to be visible for a large audience of your market.
That's the only way you will be making a good profit out of your online efforts.
You still don't understand what's the difference between On-site SEO and Off-site SEO. Right?
Look,
It's simple.
On-Page SEO is about how much care and hard work you do on your site and its content.
It combines title tags, URL structure, internal links, quality content, and image optimization etc.
Read this useful article on On Page SEO to have some real growth in your page ranking.
While Off-Page SEO is all about how much respect and trust you have in eyes of other relevant authors, resources, and authoritative websites.
Remember,
Off-Page SEO techniques increase your domain authority and allow Google to trust you and rank your site at top positions in search engine page results.
And your site not only starts ranking for your targeted keywords but also for the keywords Google thinks Your site has a better content than your competitors.
You will also need these resources on your journey of enriching your Search Engine Optimization skills:
How does Off-site SEO work?
Guess what?
I heard you whispering this.
Where are the Off-page SEO strategies which will actually boost your page ranking?
Believe me, you are close enough to this answer.
We will consider two factors here to understand how does Off Page SEO work.
Both factors are linked to one another and play a significant role to take your site in final of this big game.
But, but, but….
Before revealing them, I would like you to answer this question here.
Why do you want to play this final?
Come on, go ahead, ask yourself.
Any answer? No?
Let's find your answer.
The factors are:
Your Goal to do Off-Page SEO.
Backlinks you achieve to reach your goal.
Want to dig deeper?
OK. first, you have to build a purpose-driven Off Page SEO strategy.
Ranking for your targeted keywords is important.
But that is not your ultimate goal. is it?
You have to define what you want to accomplish.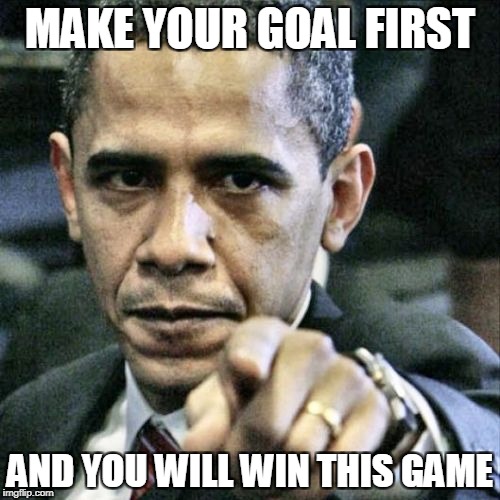 Either you want to sell your products, promote your brand or just want to share some useful information to help a large audience.
Also,
The content you are writing for off page SEO must influence and convince the readers to take an action as the authority of your page relies on it.
To know more about purpose-driven content and keywords research visit here.
Once your goal is decided, it's time to talk about backlinks.
You want to increase your page ranking, you want a larger exposure and you also want to achieve the goal from your efforts.
Backlinks are what will help you most than anything here.
The reference links you get from other authoritative and relevant sites to your actual site matters a lot in eyes of Google.
These backlinks make Google believe that your content is more helpful than your competitors.
And Google page algorithm starts ranking your pages at top positions within search engine page results.
Look at your face!
Wondering how to learn everything about backlinks?
Meet the king of Backlinks here.
13 Off Page SEO Strategies and Best ways to follow them
Finally,
You will learn the most useful and reliable Off page SEO techniques here.
I will also share practical resources to help you dig deeper into these helpful strategies.
Before that,
If you are struggling with new words then this SEO glossary
will help you to understand each and every word you read in this article.
Now you are ready. right?
No? Then what are you waiting for?
You have a site to rank in top results of Google.
Come on.
Get a cup of coffee, a glass of juice or whatever you need.
Let's get it started.
Social Networking Sites (Off Page Optimization Starts here)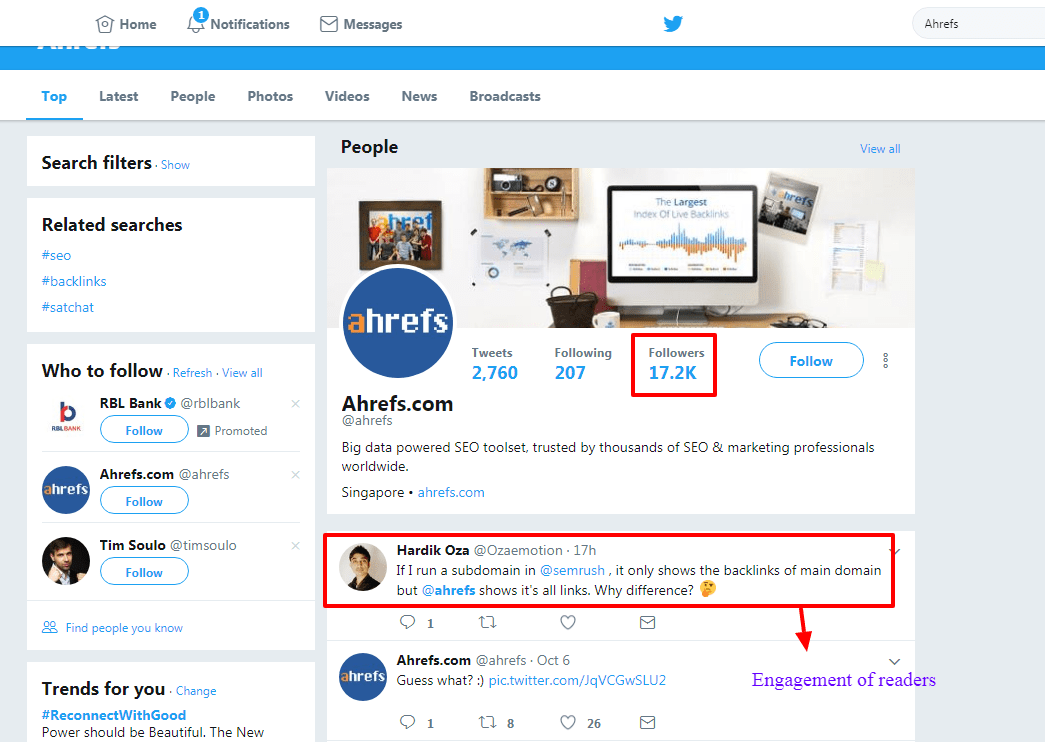 Does social media require any introduction?
Of course, It doesn't.
It has already become the 8th wonder of the world.
In above screenshot, you can see how Ahrefs.com is successfully active on one of the leading social media platforms.
This twitter account is not only helping them to earn a many numbers of backlinks to their actual site but also increasing their domain authority.
Check out these social media usage statistics.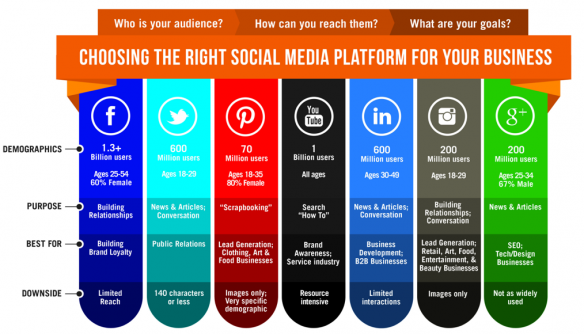 Social media engagement is a primary Off site Search engine optimization technique.
You can easily reach your targeted audience here and increase the visibility of your brand.
All you have to do is participating actively on these platforms and regularly providing fresh and interesting content to attract traffic to your site.
This article will help you boosting your social media profiles.
Social Bookmarking
If you are looking for another great off page SEO activity then social bookmarking can gain huge traffic to your site.
It's simple to use these sites.
Just select your best articles and leave their links on these bookmarking sites.
Have a look at this screenshot.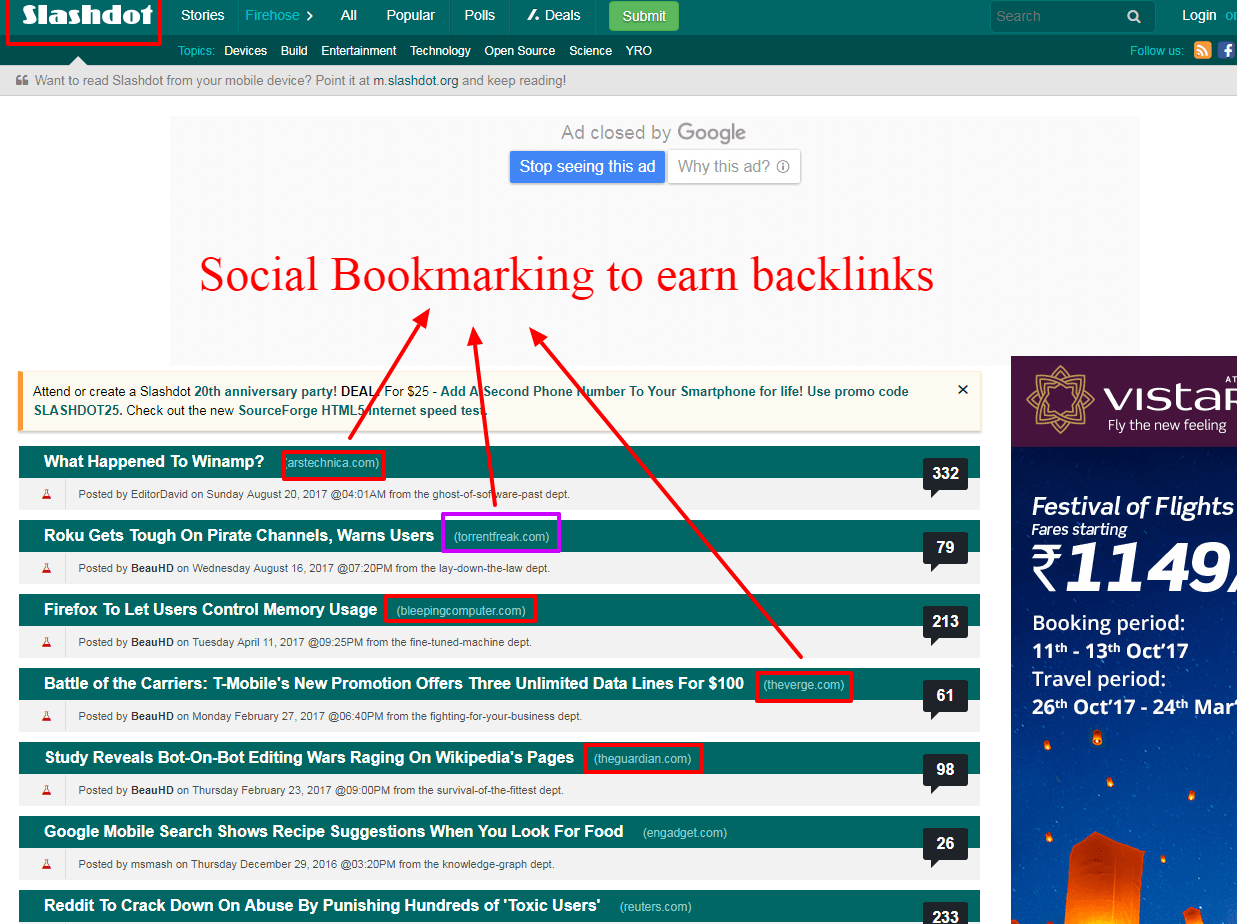 Slashdot is a popular bookmarking site.
The backlinks achieved from these sites matter a lot for Off-Page search engine optimization.
Other examples of social bookmarking sites are here.
Delicious
StumbleUpon
Digg
Reddit etc.
Read this article to learn how to do social bookmarking.
Question & Answer
Question and Answer is not a new name in the list of Off Page SEO strategies but it was not that popular some years ago.
A place where anyone can ask questions to you and answer your questions related to any topics.
Have a look at this screenshot.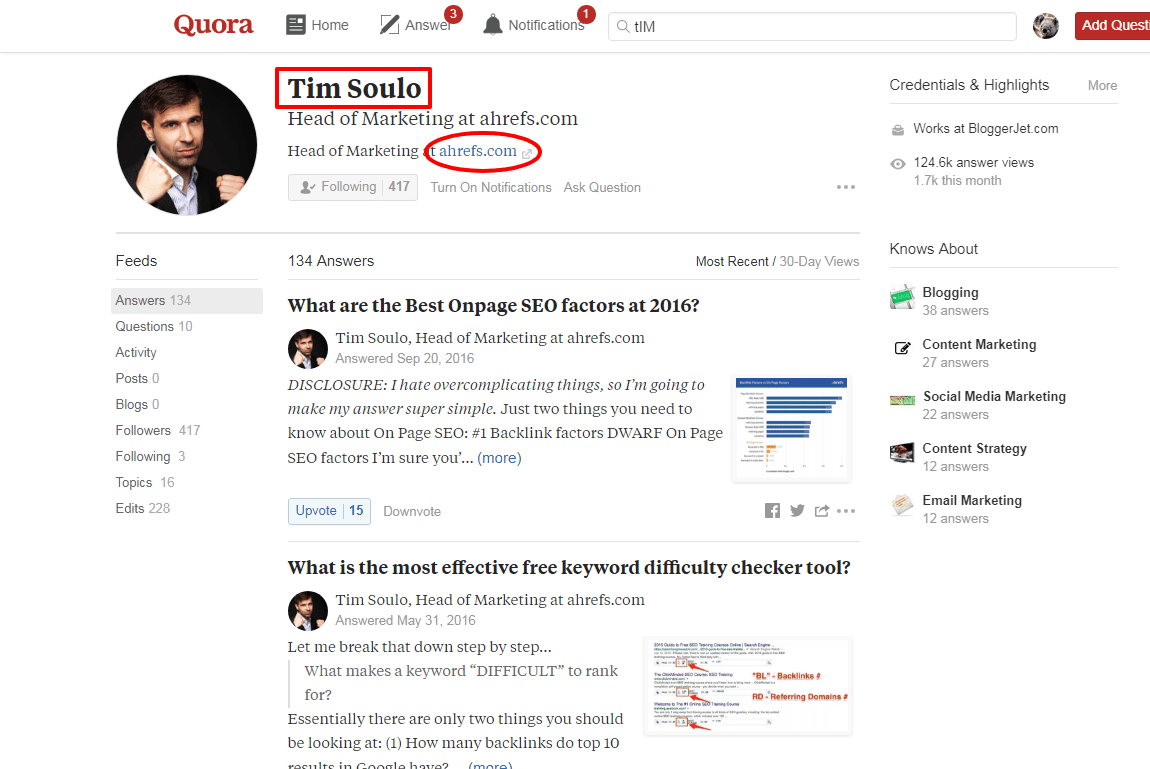 Do you understand now?
What does it take to make a brand?
The same Tim Soulo is doing for ahrefs.com in this screenshot.
You have to participate actively and answer relevant questions to your site niche.
With the time you earn a reputation as an expert in your chosen field and that helps your brand to get more visitors on your actual site.
Pro Tip: This guide will teach you how to use Q and A sites for Off-page SEO.
You can also utilize these questions and answers websites for your Off-Page SEO.
Yahoo Answers
Reddit
Blurtit
Blog Comments
Let me share with you one Off-site strategy that has been in this game for a long time.
That is blog comments.


Blog comments help you to connect with influencers and other bloggers of your niche.
To make a good relationship with them you have to regularly comment on their blogs.
But remember,
Never try to make such comments which are not relevant to the topics.
Be honest with your comments and only speak what you really feel about that blog post.
You have to ask genuine questions and share valuable information if you want to get noticed by author or administrator of that particular blog.
Your efforts can be rewarded with backlinks and traffic to your site.
Visit this article to learn more about blog comments.
Resource Pages
Is not there an off page SEO activity where you just drop your links and drive a potential traffic to your site?
Yes, There is.
Resource Pages are places where page owners want you to put your site links on their page and help them accumulate some good resources for their audience.
In return, your site earns more authority and relevancy for search engine optimization.
How?
Any example?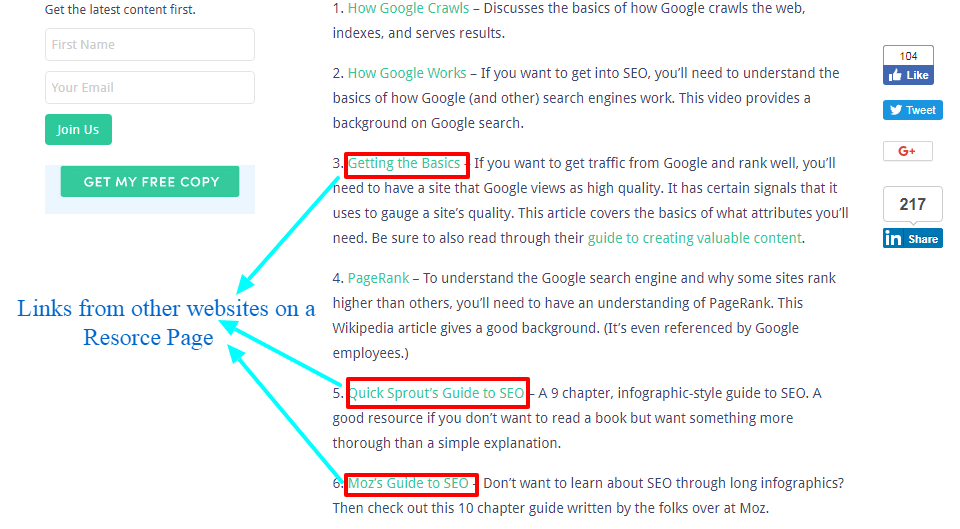 You can see in this screenshot how various top websites from the same niche are using a resource page for their Off-Site Optimization.
Want more about resource pages?
Guest Blogging
I don't know, what is your desired goal to do Off-Page SEO?
But, I will suggest you one and you are just going to love it.
Make your brand visible for everyone who can be your potential reader.
Reach different audience every time and connect with most successful influencers of your niche.
How will you do it?
Guest blogging is your answer.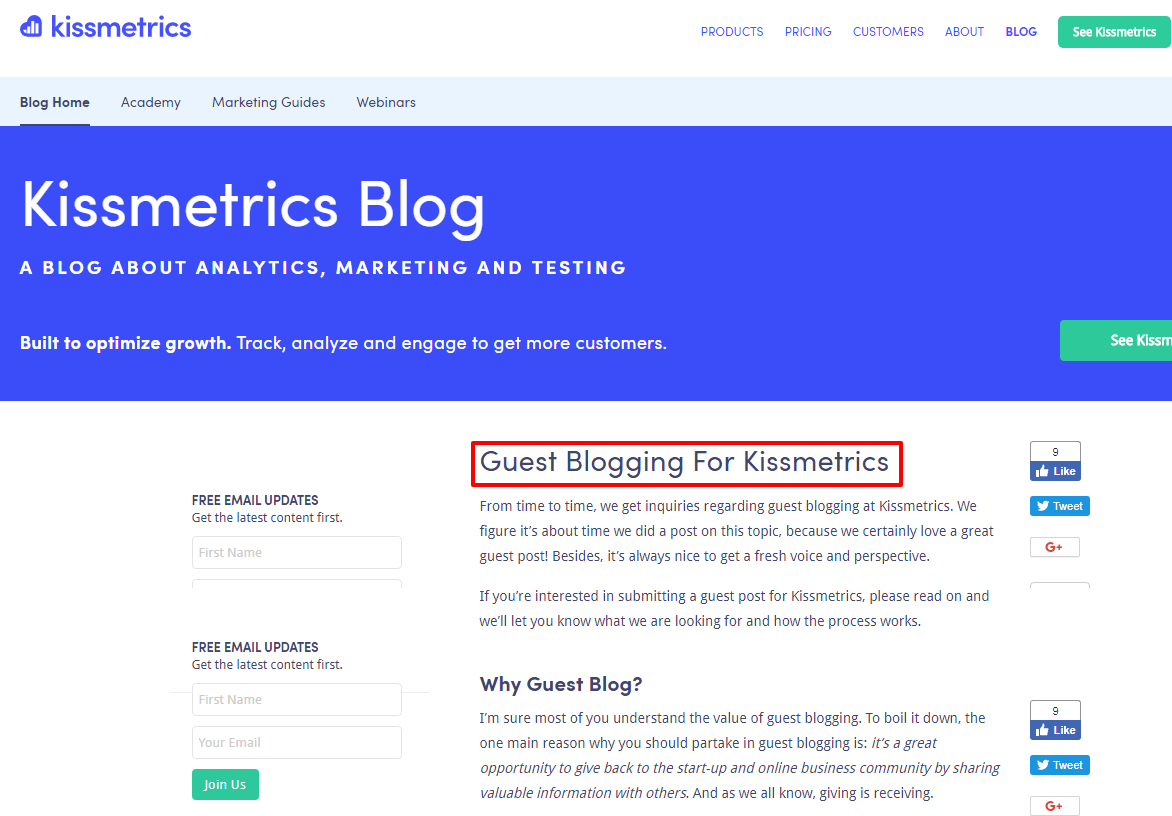 Bloggers do it all the time to drive traffic from other bloggers websites.
Here you have to write unique and quality content to post on champion websites of your field.
Remember always,
Relevancy is the key to achieve more authority for your blog or website.
Peter Sandeen's blog will give you all the resources you require to be a master in guest blogging.
Get Your Competitor's Backlinks
One of my neighbors uses an awesome car to reach his office every day. It's easy, comfortable and time-saving.
Sometimes I wish to loot his car.
But why am I telling you about it?
Because sometimes you also wish to loot your competitor's backlinks somehow.
Is it possible?
Yes, to get quality backlinks this is my favorite Off-site SEO strategy I do for my blogs.
I use Ahrefs tools for it because they are simply awesome.
Need an example?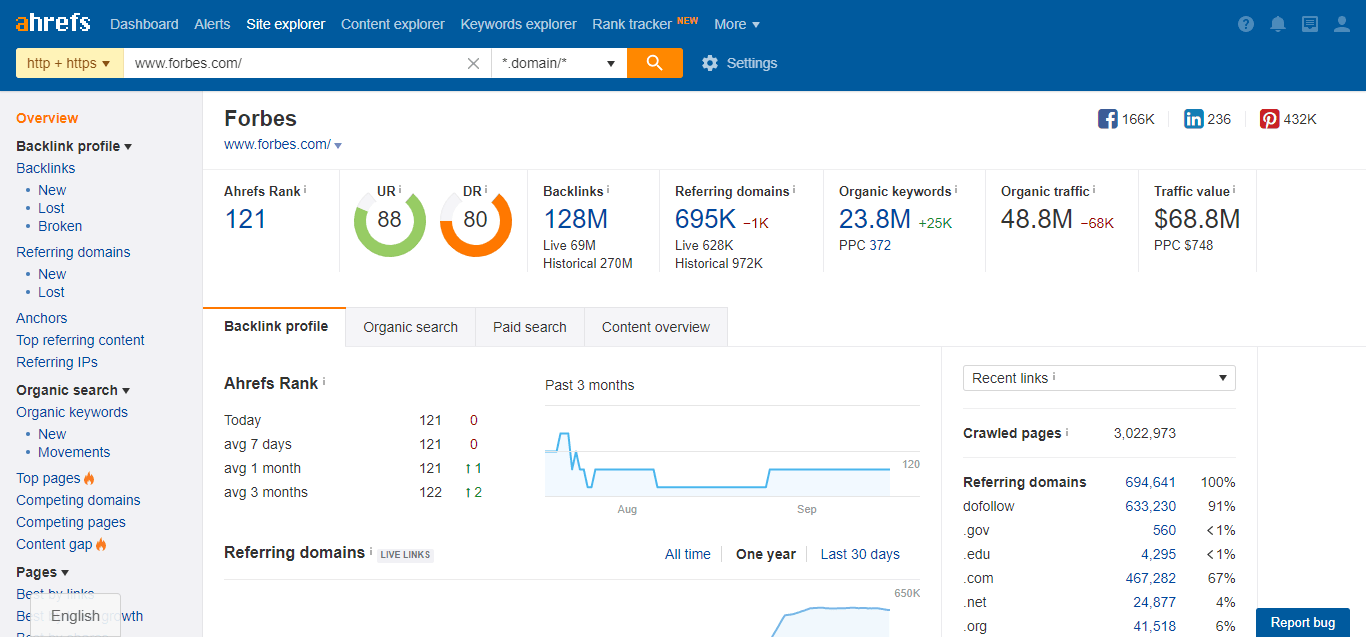 Your top competitors have already earned such backlinks which help them to stay at top positions in eyes of Google.
Find out your top 5 competitors for your targeted keywords and the backlinks they have from various websites.
You can offer fresh and more quality content to these websites.
They will consider your recommendation because it is their first priority to have updated content on their websites.
Why?
Because they are also racing to hold top positions in their niche.
How will you steal your competitor's backlinks?
Ahrefs blog and tools will not only lead you there but also help in so many ways you can't imagine for your Off-site search engine optimization.
Web 2.0 Submissions
There was a time when bloggers were crazy for web 2.0 submission.
It still works for them in 2017 with some risks.
Web 2.0 is one of the most popular online techniques to promote your blog, site or your products.
They are free blogging platforms where you can sign up with one click and can create useful content for readers.
Here you can build an audience and divert it to your actual websites by using backlinks.
You can join 10, 100 or 1000 such blogging platforms and start driving traffic and earning page authority for your Off-page SEO.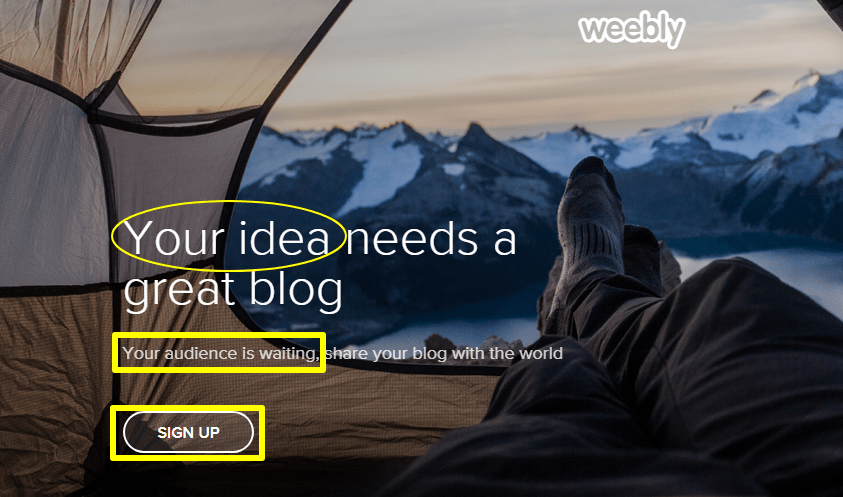 Looks great. Right?
I have more for you.
Here is the Top 62 High PR Web 2.0 Sites List.
Video Submissions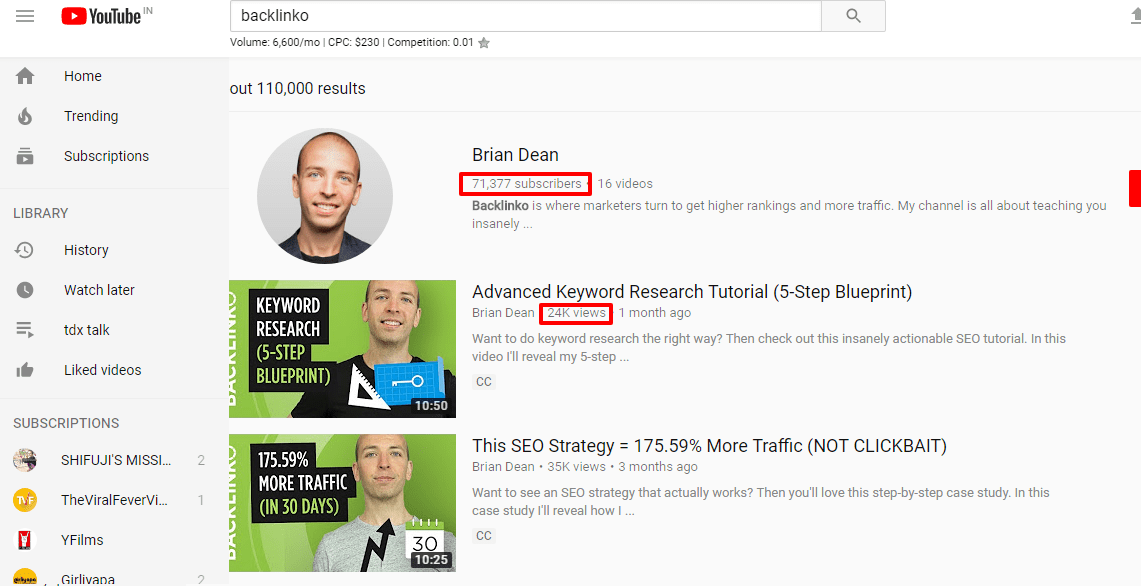 Now I will get a chance to tell you what you already know.
Video submission has become the latest trend of off-site SEO now.
You watch countless videos every week.
So what works for others, let's use it for your site.
Make a high-quality video for your products and services, publish it along with your site link and get backlinks for your actual site.
My favorite Video platforms are listed here:
YouTube
Facebook
Vimeo
Vine
Dailymotion
Stupidvideos
Metacafe
By using this off page SEO activity our brand will reach a whole new level and your website will have a large number of new visitors soon.
To learn more about it, read this article.
Image Submission
You prepare a lot of images for your on-page SEO and social marketing. Right?
Can you also utilize them for your Off-Page search engine optimization?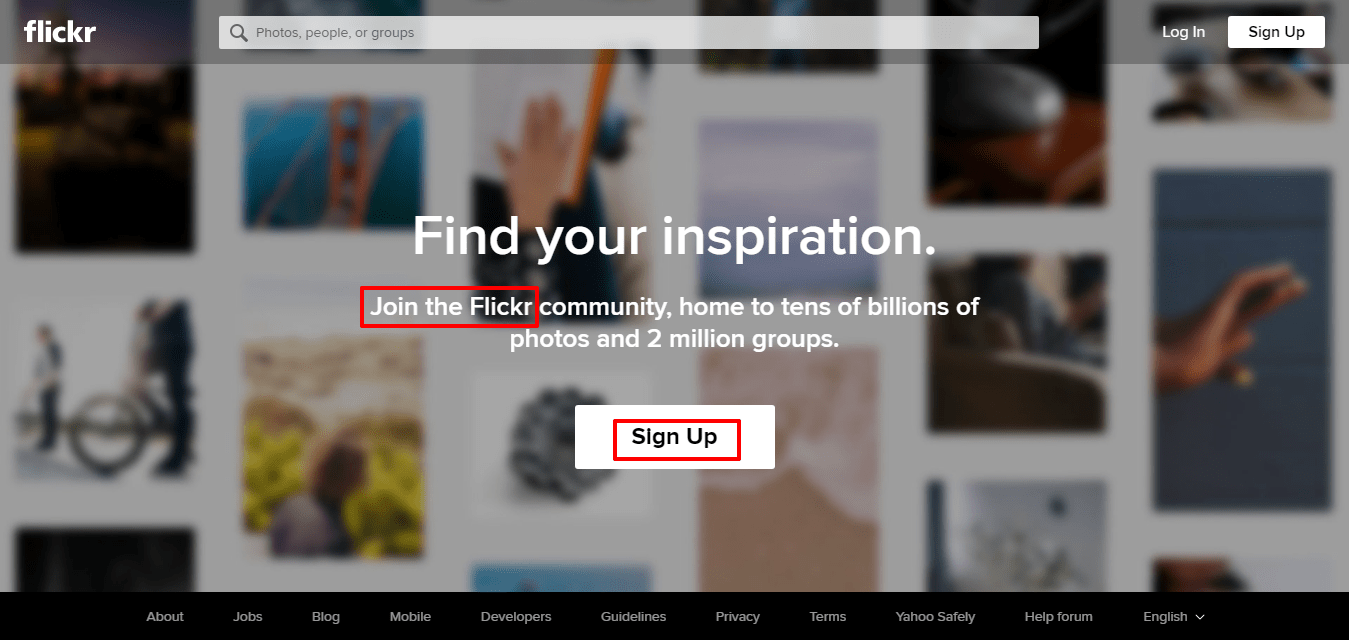 Yes, you can.
Use these great platforms for image submissions and remember to optimize your images with your targeted keywords in tags and description.
Facebook
Instagram
Flickr
Tumblr
Imgur
Imageshack
Photobucket
Shutterfly
Learn how to do image submission successfully for your Off-Page SEO here.
Infographic Submission
Infographic submission is another creative off page SEO activity.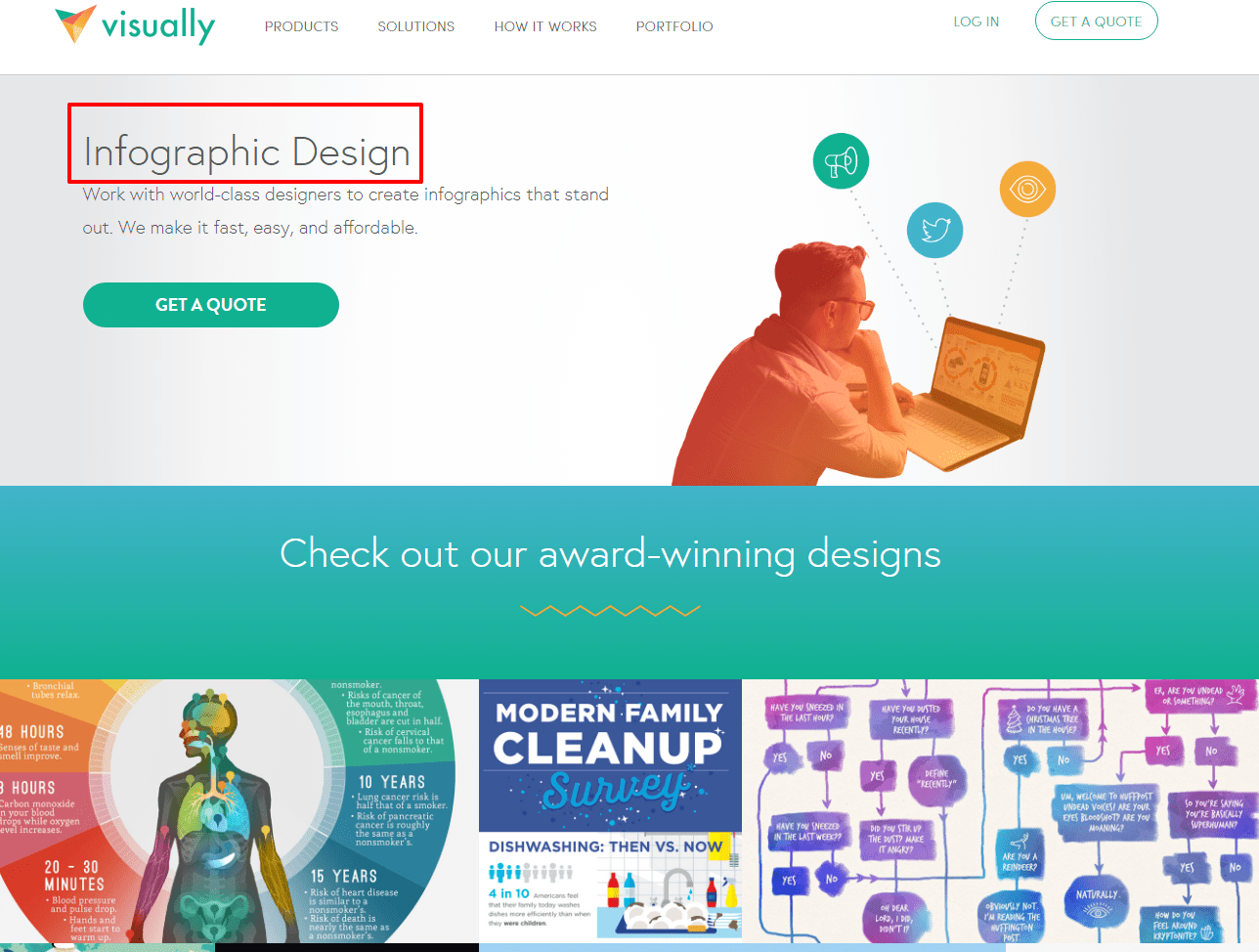 The reason behind infographics are getting famous is that your readers engage quickly with such graphics which are attractive and informative.
You can submit your infographics on infographics submission websites and refer backlinks to your actual site or blog.
Use these resources to create and submit infographics:
Broken Link Building
Broken link building is also a useful technique which is used by SEO analysts for Off-site search engine optimization.
Before understanding it, let me ask you something.
What happens when you owe a favor to someone.
Sooner or later this favor gives you a benefit.
Broken link building is the favor you do for the owner of a website and in return of this favor, you can earn backlinks to your site.
It is one of the most effective link building strategies for bloggers.
Find out such websites in your niche which have any broken links.
Aware them about these broken links and offer quality content from your website in replacement of these broken links.
Here is the step by step guide to modern broken link building you can use to learn everything about broken link building.
Forum submission
Forums are great platforms to make relationships with the experts in your niche.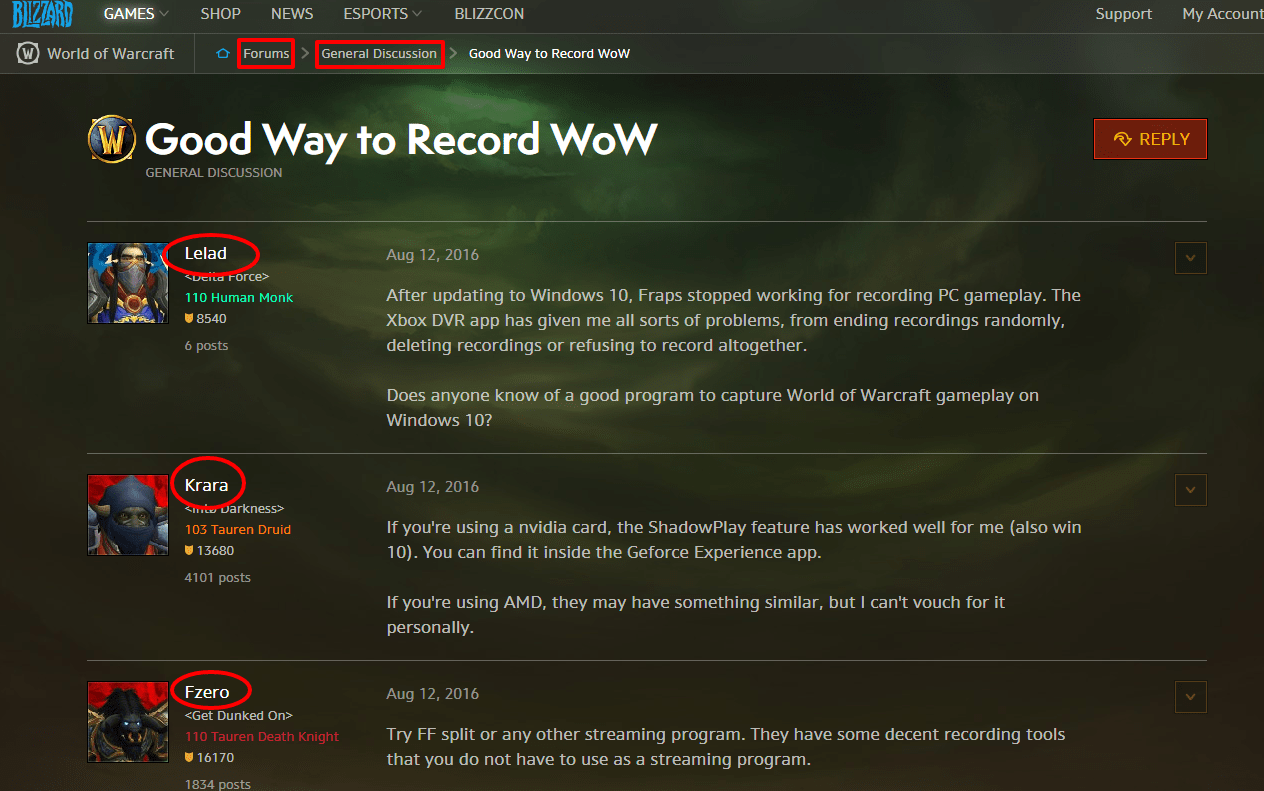 Join such forums and start conversations there.
Other bloggers can read your comments and visit your websites via backlinks you mention there.
Do not forget to make valuable contributions for the members and use all opportunities you get to drive traffic to your site.
Need more help?
This article will help you with forum submission.
Let me share some other Off-Page SEO techniques with you.
Article Submissions
Search Engine Submission
Directory Submission
Link Exchange
Conclusion
In the end, let's recall what miracles Off Page SEO can perform for you.
Ranking your site at top results
Building your brand name.
Making relationships with influencers and bloggers.
Reaching a large audience.
I hope this article helps you with Off Page Search Engine Optimization for your websites and blogs.
Leave comments if you have any question or suggestion related to Off-Page SEO.
Please share this article with your friends.
Best Of Luck!